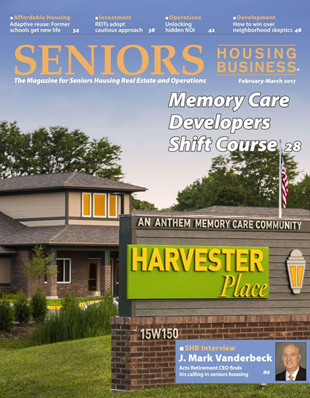 Preacher's son finds his own calling in nonprofit seniors housing
By Jeff Shaw
It makes a lot of sense that J. Mark Vanderbeck would end up as CEO of Acts Retirement-Life Communities, the largest nonprofit seniors housing owner-operator in the United States by units, according to the American Seniors Housing Association's 2016 numbers.
As the son, grandson and great-grandson of preachers, perhaps it's divine providence that Vanderbeck would be drawn to a company also founded by a preacher.
When Vanderbeck told his father that he didn't feel a calling to become a pastor, the response was simple: "There are all kinds of congregations." Vanderbeck ended up finding his calling elsewhere after working for a nonprofit seniors housing community in California, a path that would eventually lead him in 1998 to Acts, a nonprofit operator largely focused on continuing care retirement communities (CCRCs). His only career positions have been at nonprofit, faith-based seniors housing companies.
Vanderbeck climbed the ladder at Acts, eventually being named CEO in 2014. He now oversees the company's portfolio of 21 communities and nearly 8,000 units. The properties are heavily concentrated in Pennsylvania (where the company was founded) and Florida, with additional communities in Alabama, Delaware, Florida, Georgia, Maryland, North Carolina and South Carolina.
Read more of Mark's interview with Seniors Housing Business here.