About Acts Retirement Living
The leader in life care for over 50 years
Acts began out of the concern of a suburban Philadelphia pastor and some members of his church who sought a dignified and acceptable retirement setting for the older members of the congregation. From there, Acts opened its first community in 1972, what is now Fort Washington Estates, in Montgomery County, Pennsylvania.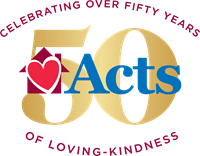 Today, Acts is one of the largest not-for-profit operators of continuing care retirement communities (CCRCs) in the United States.
With a vision founded in faith and guided by a commitment to integrity and Loving-Kindness, Acts has established an unsurpassed reputation for strength and stability in the senior retirement living industry.


Our Vision
Acts - where loving-kindness and Christian ideals are practiced to meet the needs of those we serve.
Our Mission
Acts is committed to providing security and peace of mind to seniors by being a pre-eminent provider of retirement-life services, responsive to individual, social, personal, health and spiritual needs in a Christian atmosphere graced with Loving-Kindness, dignity, sensitivity, honesty and respect, without prejudice or preference.
Culture of Loving-Kindness
The Acts Culture of Loving-Kindness is based on the extension of God's grace, goodness, mercy, and love without prejudice to others. Acts embraces Loving-Kindness, recognizing the inherent value in others through an attitude of respect and acceptance, without favor. Acts is committed to following God's directives to care for seniors and, in doing so, glorifying Him through intent, purpose and righteous justice.
Diversity & Inclusion
In keeping with the teachings of our Christian heritage and the Culture of Loving-Kindness, Acts is committed to the belief that every person is equally created in the image of God—a basic human identity— and that all individuals shall be treated with respect and dignity regardless of their religion, race, national origin, color, gender and gender identity, sexual orientation, disability, age, or other unique attributes. This commitment to inclusion and diversity goes to the core of our beliefs.
Acts' Partnership with Willow Valley Communities
Acts Retirement Services (Acts) and Willow Valley Communities, two of the nation's largest not-for-profit senior living organizations, completed a Strategic Alliance in 2022.
This relationship brings two of senior living's most respected organizations together in a mutually beneficial relationship and enhances the ability of both organizations to serve seniors and advance their shared missions.
Headquartered in Lancaster, PA, Willow Valley Communities has been serving seniors from across the nation since 1984. Its network of 3 campuses in Lancaster County, PA serve more than 2,500 residents.