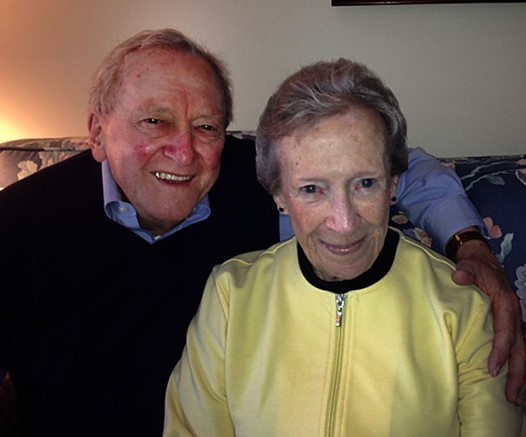 Bob and Nancy Lamont held hands, embraced and stroked each other's cheek tenderly, displaying a love that has thrived nearly 70 years.
That they did so with their eyes while seated well across the room from each other in their stylish apartment at Gwynedd Estates retirement community in Lower Gwynedd was of no consequence. Almost from the very moment these former Willow Grove residents first laid eyes on each other in a Cheltenham High School hallway in the early 1940s, they've remained connected in a way that typifies what Valentine's Day should be all about.
"There's no secret," said Nancy, 84, as she smiled at her husband. "To keep a good marriage, you need love, humor and respect for each other.
"Sometimes, I see people losing that initial respect for loving somebody. People get divorced today so quickly. I always wonder, Where is that love they had when they got married? What happened from that point to the point where they say, 'I have to get out' and they divorce. I don't understand it. Where does that love go?"
As Bob listens to his beautiful bride discuss marriage and love with Valentine's Day on the horizon, one swears his knees might buckle from his good fortune if he weren't seated.
"I've had, and I'm still having, a great life," said Bob, 85, his expression revealing he's hopelessly in love. "I couldn't have asked for more."
The asking. Ah yes, the asking. Bob was a little late on the draw when it came to asking Nancy for a date. They met at Cheltenham when he was a sophomore and she a freshman. For the next two years, they traveled with the same group of friends, attended dances and went to the movies, but not as a couple. Bob and Nancy even double-dated, but not with each other. Bob was in the front seat of the car with his date - Nancy's best friend - and Nancy was in the back seat with her date - Bob's best friend. But even then, each knew the seat they were in didn't feel quite right.
"I thought Bob was really cute," Nancy said.
Bob leans forward in his chair.
"She thought I was cute," he said. "I knew she was cute. But I was kinda shy. I didn't do much dating as a teenager. But I knew I really liked Nancy.
"When I was a junior and she was a sophomore, I waited too long to ask her to a dance. By then, she'd found another date, and that kinda hurt. That's when I thought, Bob, you'd better get on the ball here."
A week later, Bob drummed up the courage to ask Nancy out. They were words Nancy had longed to hear.
"Feb. 8, 1945 - that was our first date," Bob recalled to Nancy's delight. ""We went bowling. Nearly 70 years later, here we are. Still."
Bob smiles. Nancy smiles. And if their feelings for each other weren't so sincere, you'd think them hokey.
When Nancy says she studied art history and psychology in college, Bob again leans forward in his chair and nods knowingly.
"Psychology," he said with a wink. "That's how she got me."
Theirs was a three-year engagement that was kept from their parents for the longest time.
"We didn't want to tell anybody because we were so young - 20 and 19," Nancy said. "I wore my engagement ring on a chain around my neck, but kept it tucked (inside a blouse or sweater)."
Nancy remains as pretty as the days she was a cheerleader. As for Bob, Nancy recalls falling ill and being admitted to the hospital in December 2010, just three days after they moved to Gwynedd Estates. While she was in the intensive care unit in 2010, Bob went to the cafeteria for dinner.
"He came back and told me women kept coming up to him and asking, 'Are you married?'" she said. "The next night, another woman came up to him and asked, 'Do you have a wife?' We laughed about it."
The Lamonts have been fortunate to embrace love, humor and respect and never let it out of their heart. They've ridden the Colorado River rapids as well as life's ups and downs. They've been to majestic Pebble Beach on the California coast, a golf course nearly as breathtaking as their relationship. They feel saddened at times by the passing years and the passing of close friends, and lean on each other to prevent emotional falls.
Three children, seven grandchildren, a great-grandson - Miles was named in honor of Nancy's dad - and great health later, the Lamonts feel blessed on this Valentine's Day. Weather permitting, the Army veteran will treat the jewel of his life to a romantic dinner.
Couples will exchange cards and flowers today. Far too many will do so from a sense of obligation rather than devotion. For too many of them, the love goes.
For the Lamonts, it goes, too. On and on and on.