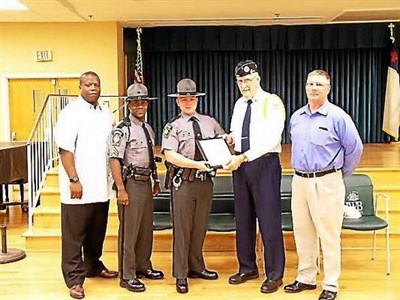 http://www.delcotimes.com/general-news/20140514/cop-shop-trooper-earns-legion-law-enforcement-award
Pennsylvania State Police Trooper Brian Maturo, take a well-deserved bow.
A week ago today, the nearly five-year state police veteran was presented with the Law Enforcement Award by the American Legion Lima Post 390. It's one of many honors that Maturo, who has been assigned to Troop K, Media station in Middletown since his graduation from the State Police Academy in August 2009, has received in recent years.
Because of his dedication to duty, Maturo was named Troop K Trooper of the Year for 2012.
He has also been recognized by the Rotary Club of Concordville/Chadds Ford for his work, and was named Trooper of the Year in 2012 by the Rotarians, as well.
In 2011 and 2012, Maturo was honored by the Pennsylvania DUI Association for his DUI enforcement efforts. He has also been recognized by Mothers Against Drunk Driving. Maturo has made over 200 DUI arrests during his years of service.
In addition, he has received commendations from Area 1 Commander and Trooper Commander of Troop K, both for his enforcement efforts and sense of duty. As an example, in 2013, he conducted a traffic stop and seized a quarter-kilo of heroin from an alleged trafficker who had brought narcotics into Pennsylvania from out of state.
In a letter nominating Maturo for the Legion award, Sgt. Robert Reilly, Troop K patrol section supervisor, described Maturo as having "a strong work ethic and unrelenting enforcement efforts," qualities that shine in his off-time, as well.
Prior to becoming a trooper, Maturo served as a volunteer firefighter, according to Reilly. Recently, Maturo coordinated an annual hockey game/beef-n-beer to help raise money for the widow and children of a friend who had died from a heart attack.
Maturo's wife, Jamie, and his parents, Joseph and Janice Maturo, were front and center at the Legion's award ceremony last week, held in the auditorium at Lima Estates.
The honoree was introduced by the Legion 390 Commander Oliver Armitage and Troop K Media commander, Lt. Anthony Sivo. Trooper Jamie Lark and Cpl. Kenneth Wilson were also in attendance.
During the ceremony, Legion 390 Service Officer John Moloko spoke about the life of a trooper.
"There's an old proverb that says, 'A man who loves his job will never work a day in his life.' Yet for the state trooper, make no mistake, it is a job," Moloko said. "For the trooper, a bad day at the office can mean death or disaster. The trooper cannot afford a mistake and simply erase it, like we do so often. We get to work in safety with friends and co-workers, but the trooper needs to deal with drunk drivers, drug (addicts) and criminals every day - a day that may be filled with hours of routine or boredom punctuated with moments of terror, adrenaline and the specter of death. Not an easy day."
Added Moloko, "And though we may dread the trooper in the rearview mirror when we go astray, it's a face that brings peace and reassurance when things go wrong, from the flat tire on a desolate road, the tragic accident or even delivering a baby in the backseat of an SUV."
Maturo expressed his thanks to the Legion, his fellow troopers and those gathered in the audience.