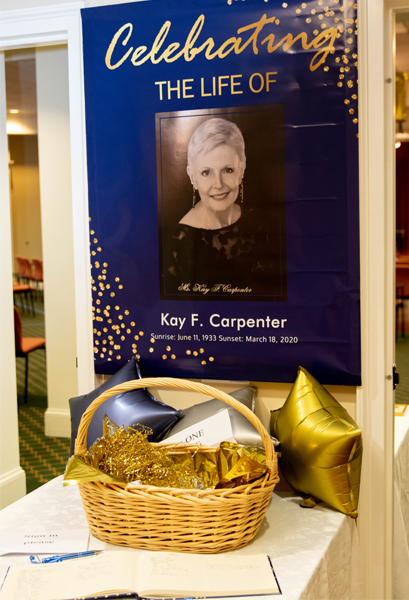 Nurses, college leaders and residents of St. Andrews Estates in Boca Raton, Florida, gathered for a touching ceremony on June 11, to celebrate the life and legacy of resident Kay Carpenter, remembered for her vast achievements in nursing, education and philanthropy. Kay passed away in March 2020. Among her many generous contributions, Kay founded the Kay Carpenter Scholarship to benefit nursing students at the Christine E. Lynn College of Nursing at Florida Atlantic University, and contributed more than $250,000 to young students at the start of their nursing career. 
The scholarship is unique because Kay encouraged its recipients to "pay it forward." Nursing students agreed to sustain the scholarship for future recipients by repaying the full amount after graduation and stable employment. In this way, the Kay Carpenter Scholarship will continue to benefit future nurses struggling with the financial demands of tuition, to complete their degree without juggling multiple jobs along with their studies. To date, nine scholarship recipients have graduated and 28 recipients are currently enrolled in the nursing school. Many of them attended the June 11 event, each wearing white robes, they were recognized during the program with a special musical tribute, "You'll Never Walk Alone" sung by sopranos Danielle Krause and Eglise Gutierrez.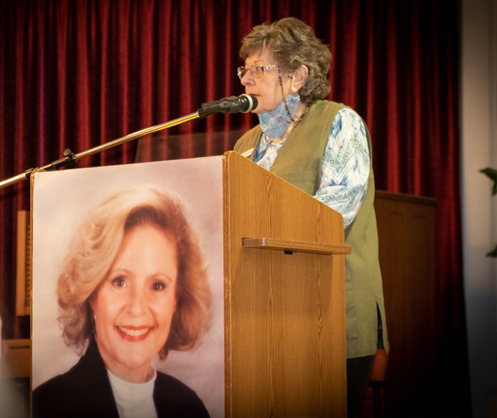 Invited guests also included members of the St. Andrews Estates Retired Nurses Group, deans and professors from the Christine E. Lynn College of Nursing, members of the Swiss nursing community, Patronesses of the Opera, and musical performers who have also directly benefitted from Kay's generosity. The program also included musical performances, including famed Russian pianist Asiya Korepanova who dedicated a special concert in memory of  Kay Carpenter the following night at St. Andrews Estates. Kay was a member of the Young Patronesses of the Opera and served on the Boards of the Murray Dranoff Duo Piano Association and the Miami Bach Society. 
Early in her career, Kay was active in the nursing community in Switzerland where she remained a guest speaker until her death. Speaking by video from Switzerland, Kay's goddaughter Dr. Melissa Dominice Dao gave a touching dedication to Kay and spoke of her illustrious contributions and passion for continuing education for nurses in Switzerland and the United States.
"Mrs. Kay Carpenter was one of the most genuine person I've known. She believed in me and my destiny to become a caring nurse," said Riannon Boffa, a Kay Carpenter Scholarship recipient who spoke at the tribute about how Kay had made a profound impact on her career. "To this day, I hope to be half the nurse and half the person she was."
"Kay believed once a nurse, always a nurse. She was proud to be a member of the most trusted profession in America and cared so deeply, believing the best way to ensure the future is to pay it forward for future generations," said Carole Stephens, resident and member of the St. Andrews Retired Nursing Association, who gave the eulogy. Kay brought together dozens of retired nurses from St. Andrews Estates and organized dinners, lectures and college tours to educate and foster relationships between retirees and nursing leaders. 

Kay's longtime partner B G Carter, who organized the community's special tribute to Kay, has offered to continue her legacy of giving, making another significant contribution in her honor to the future generation of nursing students at Florida Atlantic University.