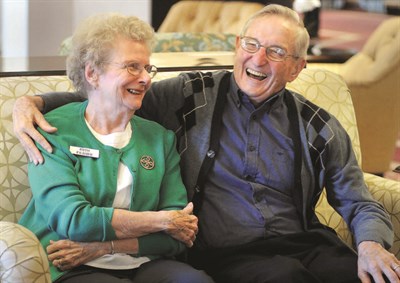 Love arrives in stocking feet. It screams out in a hush. Rarely does it trumpet its arrival before embracing one's heart.
No, Cupid's arrow is more curveball than fastball. Love shows up unannounced from uncharted back roads rather than honking its horn down Main Street.
Love finds its mark quietly and unexpectedly. Love, real and true, arrives like a soft summer rain on a cloudless day.
Ruth Kilburn wasn't looking when love leaped from the shadows and found her a second time in 2003 at age 74. Three years earlier, her husband of 32 years died in Montgomeryville after a long battle with Alzheimer's disease, and she subsequently moved into Southampton Estates retirement community.
One day, as she chatted with friends on a walking path on the community grounds, she heard a gentleman identify himself to a fellow resident as Al Kilburn.
The name stopped her in her tracks.
"I immediately asked him if he ever lived in Philadelphia, and he said he did," Ruth said Friday at Southampton Estates. "I remembered his name from my friends who knew him back then when we were teenagers. We attended different high schools. Somehow, I never met him."
Despite living just six houses apart.
"I lived at 1227 W. Venango St., and he lived around the corner at 3629 N. Camac St., but we never met," Ruth said of Al, who lived in Doylestown before moving to Southampton Estates. "We couldn't
believe we lived that close but never met - not until all these years later.
"As we talked, he told me his wife had just died after 53 years of marriage. He was sad, and I consoled him."
Kilburn recalls that initial meeting with a neighbor she never knew while seated beside him on a sofa in the lobby of Southampton Estates. Nearby, the glow and crackle of a fireplace placed a distant second to a love that came out of nowhere.
"I liked him right away," she said, drowning in her husband's eyes like a smitten school girl. "I thought he was neat. Very nice. Very handsome."
She smiled at Al.
"I was crazy about him right away," she said.
Al smiled, squeezed the hand of his bride, the one who's 85 going on 15, and said, "She was always the prettiest girl in this place."
From that moment, Al and Ruth were, and have been, inseparable. Two kids from the same neighborhood found each other 60 years later, when love came out of nowhere. They walked together, and played shuffleboard together, and went on trips with their walking club.
But despite their newfound romance, the couple retained old-fashioned values.
"We'd go on group trips with people from here," Ruth said. "But we stayed in separate rooms because, you know, if we didn't, people would talk. "We just loved each other so much, one day we decided, 'Hey, let's just get married,' and we did, in 2007. We have so much in common."
Al nodded.
"We have companionship, friendship and love," said. "What else do you really need?"
February has been busy for the Kilburns. There was Al's 85th birthday on the 7th, and their eighth wedding anniversary on Monday.
There were no special plans for Valentine's Day.
"Nothing, really," Ruth said. "Just probably do something together, just being together.
"I'm just so fortunate. God, I really can't describe it. I've never felt about anybody the way I feel about him."
Love has found two kids from the old neighborhood, where their streets crossed, but their paths did not.
Where loneliness once lived, love has moved in.
It's a long-term lease.