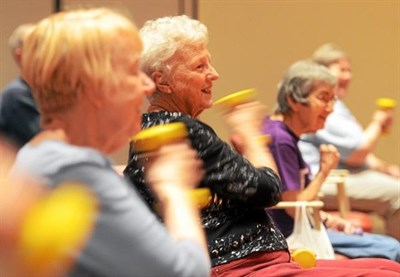 It's about 15 minutes before a Wednesday morning exercise class inside an auditorium at Brittany Pointe Estates, an ACTS retirement community in Upper Gwynedd, and already, many of the dozens of seats that have been set up are brimming with hand weights, resistance bands, towels, water bottles and colorful workout gear.
"It's kind of like junior high," class instructor Terry Alburger said lovingly and with a bright laugh. "They save their seats and if you come in and take one of the seats, you'll get in trouble. They'll say, 'Hey, what are you doing, my stuff was there!'"
The 50 or so Brittany Pointe residents - women and men ranging in age from their early 60s to well into their 90s - enrolled in the thrice-weekly, nearly hour-long classes are dedicated to the pursuit of fitness, and Alburger, 55, who has been leading the sessions for a decade, is equally dedicated to promoting health and well-being through exercise.
"It's definitely the old adage, 'If you don't use it, you lose it,'" said Alburger, a Perkasie resident who became the fitness director at Brittany Pointe, where her elderly mother resides, after a career in the insurance business.
At 9 a.m. sharp, Alburger flips on some Motown music, and in moments she's got the class moving through an array of calisthenics both standing and seated, with the participants reaching here and bending there in synchronicity - a well-oiled exercise machine comprised of people who, in many cases, have been faithfully attending for years.
"It's both cardio and resistance, and it's all low-impact, obviously, but it's a good workout" Alburger said.
"This class covers everything," she continued. "It's also fun. If it's not fun, there's no point in doing it. That's kind of my philosophy in everything."
After Alburger put the class through a set of seated crunches, one woman looked over at this reporter observing the class and smiled. "You're getting off easy!" she exclaimed.
When the session was over, several of the participants gushed about how great they felt, and their affection for Alburger was evident.
"I'm here because of her - she has the enthusiasm, as you can see, and she makes this really worthwhile," said Dave Leventhal, who is 77 and fitter than most men two or three decades younger. "I started out in good shape and this just keeps me there," he said.
Carolyn Lusch and Laura Heebner, both in their 70s, said they've been coming to the classes regularly for three and six years, respectively, and it's become a vital part of their lives at Brittany Pointe.
"It makes you feel good, it really gets you moving in the morning," said Lusch.
Alburger, who also teaches yoga and Zumba classes and oversees a weight-loss program, said that with the 30-year span of ages among the attendees, it can sometimes be a challenge to tailor one session for everybody.
"I might do an exercise and say, 'Hey, if that bothers you, just do this,'" she said. "But you know what? Most people do it. And some people who are coming back from injuries or surgery, they know to take it easy. I keep an eye on everybody. I know everybody's history. Truly, it is a family."
And, she said, she's often seen the tangible benefits of the classes.
"I had one person who had a major stroke six or seven years ago, and when she came back from the hospital she literally called for me to come see her and she said to me, 'I want you to know that the doctor said the reason I'm in such good shape now [after the stroke] and I don't have any residual effects is because of your class and because I kept exercising.' To me, that's everything. It makes you feel like you're doing something important."
Alburger then smiled brightly as she gazed at the members of her class as they filtered out of the room, some going to the nearby gym or pool to continue working out. "Their quality of life is amazing," she said. "I want to be them when I grow up."
You can also read the article on Montgomery Media's website.