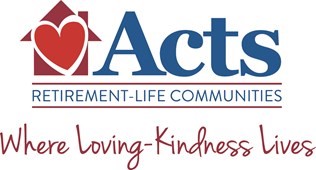 WEST POINT, PA, May 3, 2016 – It's a brand new day at Acts Retirement-Life Communities. One of the senior living industry's largest organizations is rolling out a new brand identity that includes a new logo, tagline, and website. The repositioning is the result of an extensive research effort involving focus groups and interviews with Acts residents and family members, community staff, members of the Acts Board of Directors and senior leadership team, and older adults living in Acts markets.
"The Acts organization celebrates its 45th anniversary of serving seniors this year, and we felt it was time to reinvigorate our brand with a refreshed image," said Acts CEO Mark Vanderbeck. "We say 'refresh' rather than 'recreate,' because Acts' core brand attributes have not changed over time, but instead have been enhanced."
The information gathered from stakeholders led to Acts' newly redesigned logo. The 'heart bursting out of the house' symbol and tagline, Where Loving-Kindness Lives, illustrates the company mission and brand promise to provide senior living environments and services graced with loving-kindness.
Another change involves the first word in the company name "Acts" which is no longer in all caps as it had been previously. This change is made to more closely align itself with the intent of the Acts founders, a church pastor and members of his congregation, who named the organization after the Book of Acts in the Bible, which references the responsibility of caring for the elderly. The deeply held beliefs of the Acts founders became the cornerstone of the organization that remains to this day.
In addition to the new visual identity, Acts has unveiled a completely enhanced and redesigned website that includes text-based and multimedia content, with faster access to information including educational articles, videos, printable guides, and resident stories.
"We've made a significant investment in the content, look and the overall user experience of our website for all digital platforms," said Vanderbeck. "Our website is the digital face of our company and the driver of our overall marketing strategy. We're excited about its potential to introduce more people to the Acts lifestyle experience, as well as providing a resource to help seniors, family members and professionals quickly access information specific to their needs."
About Acts
Acts Retirement-Life Communities is the nation's largest not-for-profit owner, operator and developer of continuing care retirement communities. Based in West Point, Pennsylvania, Acts has a family of 21 senior living communities in eight states that are home to more than 8,600 seniors. Website: Actsretirement.org.