By Natalie Kostelni
Reporter, Philadelphia Business Journal
Acts Retirement-Life Communities has entered New Jersey by folding the Evergreens, a community on 32 acres in Moorestown, into its portfolio of senior living properties.
Under the arrangement, Acts assumed $45 million in debt and now controls management and oversight of the Evergreens. The arrangement with the Evergreens is technically referred to as an affiliation since Acts is a nonprofit, but Acts has essentially acquired the community and taken over all of its debt and outstanding bonds.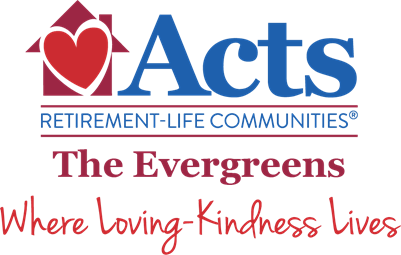 The move was a strategic one for Acts, which is based in West Point, Montgomery County. With the Evergreens deal, it now operates 23 communities along the East Coast with its largest concentration in the Philadelphia area. It has eight communities in Pennsylvania and several in Delaware.
"To extend into New Jersey has always been a desire of ours," said Gerald T. Grant, president and CEO of Acts. "New Jersey from a demographic perspective is well serviced in terms of the number of senior living communities. To build another one doesn't make sense because you would be stealing market share. But to step into someone's shoes who has the same mission and values as us made sense."
The nonprofit overseeing the Evergreens had been exploring its next phase and reached out to about a half-dozen operators, including Acts, to gauge interest, Grant said. Acts stepped forward and decided it would be a good fit. It was a deal Acts had been working on for about a year.
The New Jersey community dates back to 1919 when it was established by the Episcopal Diocese of New Jersey though that affiliation has lessened over the years. It has 200 independent living apartments, a 34-bed skilled nursing center and 66 assisted-living quarters. The Evergreens has 225 residents and employs 215 people.
Acts has been investing in many of its communities that were developed in the 1970s and 1980s and are now dated. "Many are being repositioned to install amenities that appeal to this generation of seniors," Grant said. "They were built to appeal to seniors of several decades ago."
Acts spends $100 million on construction activity annually to upgrade its communities, and though the Evergreens' campus has been well-maintained, work will be done on cosmetic alterations and to make some studio units larger.
Acts' growth strategy has never been defined by the number of communities it owns or revenue growth, Grant said. It looks for several types of opportunities: to affiliate with other facilities in markets in which it currently operates, to expand existing campuses and even to undertake ground up development projects.
"We want to position ourselves for what we all know is the most significant demographic wave to come to this industry and that is the baby boomers," he said.

This story also appeared on the home page of Montco.Today, which you can view below.