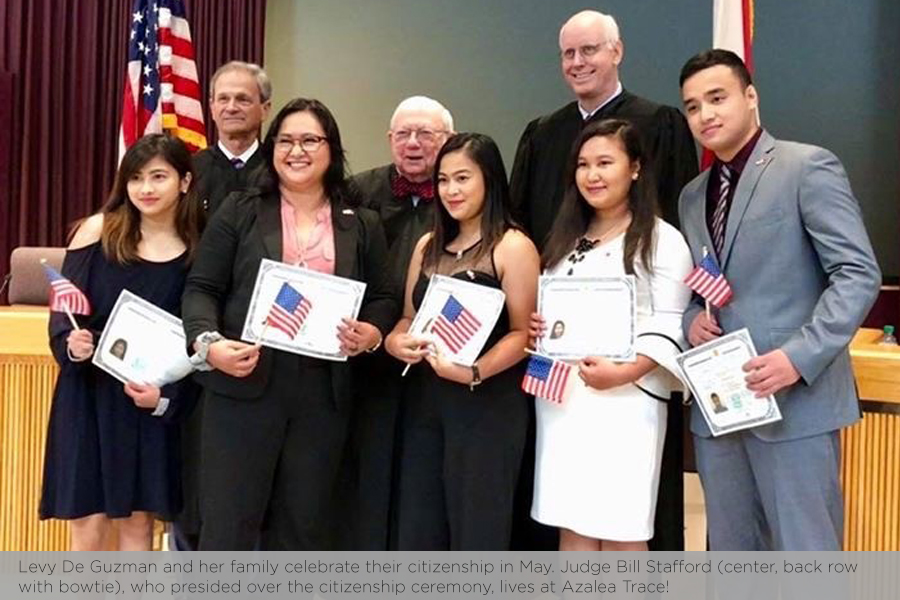 For a special group of Acts employees, this Fourth of July is more meaningful than BBQs and parades. These employees are celebrating their first Independence Day as U.S. citizens.
"It was a very emotional ceremony because it was so special and after I was naturalized, I came back to a surprise party at work with cupcakes and cards. It was an incredible feeling."
That's how Rose Villamonte, an LPN at Cokesbury Village, describes the proud moment she became a U.S. citizen in March after 45 years. Rose was 17 years old when she left Peru. At 62, she is happy to call herself an American with help from Acts Corporate University (ACU).
ACU proudly supports employees in their pursuit of their American dream. Since its citizenship program began three years ago, about 38 employees have become U.S. citizens. All employees (both full and part-time) are eligible for the program after completing their 90-day new hire period. ACU reimburses the employee for half the cost of the citizenship exam with proof of naturalization.
"It's a great benefit," said Villamonte, "I hired a lawyer out of Philadelphia to assist me and the entire process took less than six months."
Rev. Alfred Muli, senior chaplain at Granite Farms Estates, also appreciated Acts' help with the expense that for a family of five could seem overwhelming.
"I had spent so much money to meet the cost of citizenship for me, my wife and four children, the exam refund came in so handy," he said.
Prachi Apte, a Rehab Director at Southhampton Estates, is in the process of obtaining U.S. citizenship. She has been thrilled with the ACU's Citizenship Study Guide and assistance in filling out the Application for Naturalization (Form N-400) to be submitted to U.S. Citizenship and Immigration Services. 
"It's a relief to get the booklet with step-by-step instructions on the application process," Apte said. "Some of my relatives had anxiety about making mistakes in filling out the paperwork. I feel with the guidance I have, I'm taking the right steps. Acts made it easier for me."
Among the newest American citizens working at Acts is Levy De Guzman, an Azalea Trace employee from the Philippines who recently completed the program.
"It was my mom's dream. She worked hard to get us here," said De Guzman, who became a U.S. citizen along with her entire family in May. To make the day extra special, Judge Bill Stafford, who lives at Azalea Trace, presided over the citizenship ceremony.
For employees, Acts is like family.
"What was more touching to my family and I was not so much the amount of money we received from the Acts citizenship program," said Rev. Muli, "It was the gesture of Loving-Kindness it communicated. It communicated love, support, and the appreciation of diversity."