Residents have a new way to stay active and take in the beautiful scenery at Indian River Estates.
The community now has two new walking trails: an outdoor mile loop around the East campus and an indoor half mile path on its West campus. Both trails have signage with "Walk for Wellness" to make sure residents stay on the right path.
"I love the little yellow men that tell you where to go," said Margaret Coe, an Indian River Estates resident.
"It's wonderful to have this trail, just very serene and peaceful," said Coe.
She added she was not always athletic. "In high school, I was the last one to get picked on a team but as I got older, I started feeling better and better just by doing something."
"If I don't exercise, I don't feel as alive," said Sally Westphalen, a resident at Indian River Estates who walks nearly daily. "Exercise has always been a part of my life."
Westphalen enjoys the versatility of the new trails. "On a beautiful day, I complete the outdoor walk and on a not-so-good or a cool day, I walk the indoor portion."
Employees also enjoy the new trails. When she's not working at the front desk, Indian River Estates' receptionist Rose Brown is walking around campus. She recently lost 40 pounds and credits much of her success to walking the grounds before work, after work and on her lunch break. Brown averages 20,000 steps a day!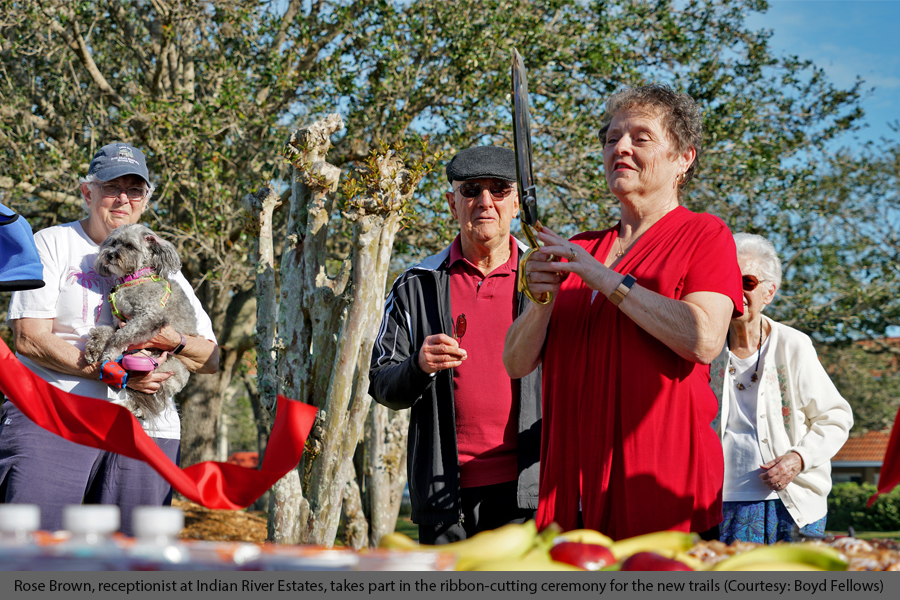 "If I don't walk, I feel like I should be," said Brown who tracks her steps. "Last year I walked 2,770 miles. If I can do it, anybody can."
Her new active lifestyle and healthier diet has lowered her cholesterol and glucose levels without medication. Brown says it has helped her manage stress more effectively and sleep better at night.
Walking has many health benefits. Fitness Director Robin Leatherow says walking improves our cardiovascular endurance, bone density and balance, which is very important as we age.
"It's also great for your mind," said resident Mary Beth Vallar who enjoys walking the trails five times a week. "I enjoy listening to a book on my iPhone.  I listen as I'm walking, but also daydream too. Besides the physical benefits, it's good for your mind too."
"It's a walking-friendly community.The scenery makes it a beautiful place to walk with the lakes and birds," said Vallar. "With the walking trail you can walk at your own pace, fast or slow, set your own goal. The most important thing to do is just finish it."