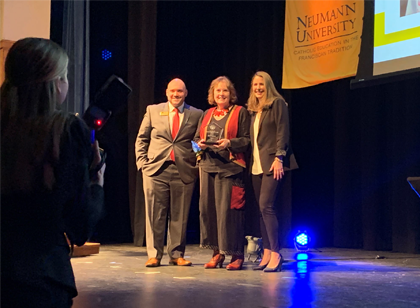 Congratulations to Helen Kain, a nurse practitioner at Lima Estates, honored with the 2022 Spirit of Francis and Clare of Assisi Award, presented by Neumann University in Aston Township, Pennsylvania.
Kain, a 1987 graduate of Neumann University's nursing program, says she brings "a caring, holistic approach to wellness and healthcare." At Lima Estates, Kain is a nurse practitioner, providing primary care services for residents in independent living, assisted living and skilled care.
"She relates with her residents and colleagues in a way that can easily be called Franciscan - gentle, caring, understanding, openminded, personal and positive," read a congratulatory statement by the school. "She organizes an annual Alzheimer's Walk, dedicates times to the Neumann Nursing Program... and is instrumental in hosting nursing lecture series and mentoring upcoming geriatric nurses."
Kain also earned a master of nursing degree in geriatric nursing from the University of Pennsylvania.