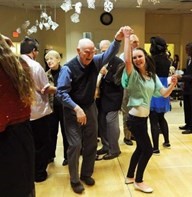 For Sally Druckenmiller, 83, Saturday night was her first senior prom.
Out on the dance floor, she and her husband, Bob, 85, were dressed to the nines while they swayed back and forth to the big band music during the Winter Wonderland Senior Prom held at the Manor House retirement community in Seaford.
The prom, put on by 80 students from Seaford High School's Key Club, transformed the retirement community's dance hall into a winter wonderland, complete with paper snowflakes hanging from the ceiling, balloons, refreshments and an 18-piece band churning out the hits and keeping the 70 or so residents jitterbugging and waltzing through the night.
"It's fun to get dressed up. I was telling someone I've never been to a senior prom," Druckenmiller said.
"They've (the students) worked hard. They spent a couple months planning. They paid for the band and were here all day decorating, they've really worked hard."
Like other residents, the music brought back a lot of memories.
"One nice thing happening tonight, there are a lot of older women who are here whose husbands are gone," Bob Druckenmiller said. "The young fellas ask them to dance and they are all getting to dance, which is nice. It's nice to see they have a chance to get into it."
Richard LaMontagne, a junior and president of the Key Club, had the first dance of the night, which he shared with one of the residents.
"I saw the joy in the woman's eyes as I took her hand and went up there and danced with her," he said. "It was very satisfying knowing that I was providing joy to her because I know she probably doesn't see many people outside the manor house and to have students be here and spend time with them I'm sure they enjoy that very much."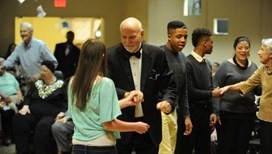 Gigi Hastings, the Key Club's faculty adviser, said the students wanted to think outside of the box when planning the event, and find some unique way to reach out to the community.
"My officers this morning kept saying, 'I can't believe this is really happening' because it was just an idea and the kids - they thought of the idea, they went through the steps to have this - and it's actually happening," she said. "They are getting to meet people and talk to people. I am so impressed with our kids."
Sandra Massey, 16, a junior at Seaford High School, said the students from the Key Club do a different community service project every year. This year, a prom, complete with king and queen, seemed like the natural choice.
It's been awhile since the residents have had a prom and "we thought it would be something cool for them to have," Massey said.
"It's something that reminds them of when they were young and were our age," she said.
The cross-generation connection is something Massey said she and other students were excited about. It's not often that high-school students and seniors get together at an event like this, she said.
The residents were really looking forward to the event, with tickets having sold out within two weeks, said Debbie Reeves, Resident Services Director of Manor House.
"They've been snowbound for a week and are really excited," she said. "They love being around students."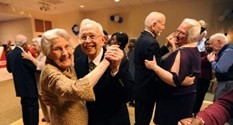 Planning for the event began in November or so, with the students doing much, if not all, of the work, Reeves said.
They booked the 18-piece band, secured donations from a local florist, publicized and planned the whole thing, she said.
For the 200 residents of the 65+ community, which includes independent living, assisted living and a healthcare unit, the prom is a chance to relive memories of the past, Reeves said.
"A lot of these people were living here when the Seaford Country Club was around and they had big bands and people went dancing Saturday nights," she said. "Some of my seniors can probably out dance those kids."