By Terry Alburger, Life Engagement Coordinator

I grew up in the era of movie musicals and could not get enough of the music soundtracks. I think I wore the needle out on the family stereo listening to the records from "Oliver," "My Fair Lady," "Camelot" and the like. Perhaps one of my favorites was "The Sound of Music."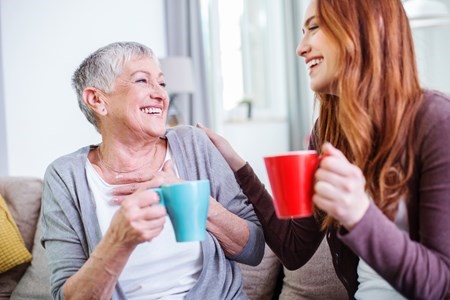 From that wonderful soundtrack came the song "My Favorite Things." This catchy tune carries with it an extraordinary message, if you think about it. I suppose if that song was rewritten today for the younger crowd, it might go something like this: "iPads in colors and Bluetooth galore, Amazon Prime brings your stuff to your door; social media carries your status far away, virtual reality is how I fill up my day."
You get the point. There is a stark contrast from what was at the top of our list then and now. I'm just not sure I like the trend.

Gone are the days of simplicity, of being content with the most basic of things, of smiling at the sign of a raindrop on a rose or stopping long enough to notice those whiskers on kittens. These days it is easy to get caught up in the frenzy of modern technology and convenience. If there is nothing on the 300-plus channels of TV that grabs your attention, you can choose your own programming — On Demand, Netflix, streaming videos, YouTube videos;. you name it, it exists. And if it's interaction you want, choose a chat room, dating site or social media site.

What happened to those days of sitting with a family member, chatting, laughing, playing cards or board games, etc? Those were the choices for interaction when I was a kid and young adult. Our eyes were not glued to a tiny screen; our ears were not covered with headphones. But laugh? We did plenty of that. We interacted with friends and family and were not isolated in our own electronic little worlds.

I admit it, I'm old-school. And I'm proud of that. Don't get me wrong; it is easy to fall victim to the lure of electronics. I am the first to admit that I am addicted to my smartphone, to my laptop, to my HD TV. It is, indeed, a hard habit to break. But as with all things, there has to be balance. I have been trying to make a concerted effort to put down the electronics while around other people. I have not been entirely successful, but I am making that effort.

One day, some of those people I love may no longer be around. My biggest lament will not be that I did not share the latest YouTube video with them. It will be that I didn't take more time to sit and really enjoy their presence, to ask their stories, to laugh with them and truly enjoy their company. It will not matter to me how many Facebook friends I have or how many Tweets I managed on any given day. My regret will be the time I did not spend with my favorite people.

Yes, I would have to say, my "favorite things" are still the simple pleasures. Family, smiles, friends and even those raindrops on roses. Because if you can see those raindrops on those roses, then surely you are close enough to them to smell their lovely aromas. And if you take time to smell those roses, then, in my mind, you're on the right track.

Terry Alburger is the Life Engagement Coordinator at Brittany Pointe Estates, an Acts Retirement-Life Community in Lansdale, Pennsylvania. This column was published online by Montgomery Media on June 12, 2017.