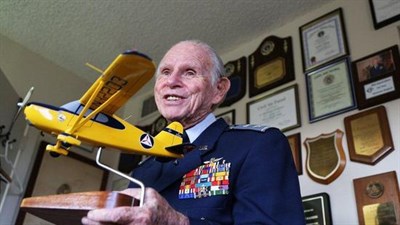 A city resident will be among the 40 founding members of the Civil Air Patrol who will receive the Congressional Gold Medal this week - the highest honor Congress bestows on civilians.
After Wednesday's ceremony in Washington, D.C., the name of Col. Buddy Harris, 87, will be on a list that also includes George Washington, the Rev. Martin Luther King Jr. and the Navajo Code Talkers. He and his fellow founding members of the Civil Air Patrol are being recognized for their role in protecting the nation's coasts during World War II.
The prospect of what's coming has him stunned, he said.
This medal is not to be confused with the Congressional Medal of Honor, the highest award for valor in action against an enemy force and is given to individuals serving in the U.S. military.
He got an invite to Wednesday's ceremony from U.S. House Speaker John Boehner.
"You can't put it into words," he said. "When I heard about it, I said, 'oooh,' and then I said, 'aaah.'"
The Civil Air Patrol was started six days before the Japanese bombed Pearl Harbor on Dec. 7, 1941. And Harris was barely 15 when he joined it soon after that.
The New York City native and Boy Scout had already started a love affair with planes at 9. For his 15th birthday, his mother bought him flying lessons that resulted in his pilot's license at 15-1/2.
"I had about 15 or 16 squadrons hanging from my bedroom ceiling," he said. "My mother never came to see me fly; she couldn't bear it. But she said, 'Promise me you'll fly low and slow.'"
He chuckled at the memory, and added, "If I had listened to that, I wouldn't be here right now."
During coastal patrols, flying low could mean taking gunfire from German submarines. Stay higher and they couldn't hit his aircraft, he explained.
When he turned 18, he started training with the U.S. Army Air Force. And then it was into the U.S. Air Force for a stint. But his true love - in addition to Phyllis, his wife of 62 years - is the Civil Air Patrol.
He has served in the Civil Air Patrol for 30 years on an active basis without a penny in pay. He's slowed down a bit these days, but says he's on call for a search-and-rescue mission should the need arise.
That Harris is being honored like this doesn't surprise James Gavrilos, executive director of Boca Helping Hands. For about five years, Harris has been leading computer training for the food pantry and soup kitchen's job-training program and also picking up food at Starbucks in Boca Raton that would have otherwise gone to waste twice a week.
"He is absolutely unstoppable," Gavrilos said. "He is always looking another way to help and serve people."
While not away on search-and-rescue missions, he started a public relations and marketing firm, worked with Lady Bird Johnson on the Committee for a More Beautiful America and became president of a large engineering and architectural firm.
He calls volunteering his way of paying rent for occupying this Earth.
The years on the Civil Air Patrol have made him rich in experiences, he said. He's been credited with saving seven lives as he's taken calls from people in the most desperate circumstances.
He remembers one voice on the radio he could barely hear while working the Civil Air Patrol on Marco Island. The caller was apparently unable to relay his current location. But Harris spotted a boat stuck on the shoals and urged the caller to tell him if he could see a plane shaking its tail. The caller said, "Yes," so Harris called in help for that location.
"The doctor at the hospital told us that if we hadn't found them in an hour, they would have died," he said.
http://www.sun-sentinel.com/local/palm-beach/boca-raton/fl-boca-veteran-high-honor-20141208-story.html