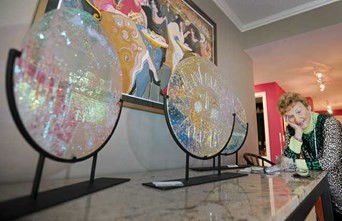 Esther Safford dug through a small box of broken glass in her studio at Lanier Village Estates looking for pieces she could use in her art.
The 84-year-old resident of the retirement community picked through the small colorful pieces seemingly without regard for sharp edges.
"I don't use gloves," Safford said. "I just keep a Band-Aid around."
Safford is a potter and a glass artist. Her apartment and the village's gift shop is filled with her and husband Bob Safford's creations. Her favorite pieces include three large disks made from layers of glass and coated in dichroic extract, which gives the glass an oil-like shimmer.
For the past three years when she isn't busy making art, Safford is melting wine bottles. The "slumping" wine bottles are then used by the formal restaurant at the village to serve salads and cheese platters.
Dave McTigue, culinary and nutrition director at the village, said the idea to use melted bottles in the restaurant began when he noticed a wind chime made out of melted bottles at a craft fair. He immediately wondered if Safford could do the same with recycled bottles in her glass studio.
After a little trial and error, Safford handed McTigue the first of the plates.
"She made a sample of one for me and I said 'Boy, this is really neat,'" McTigue said. "So I asked the residents to save their wine bottles for me and then we'd clean them and take them down to Esther and she'd melt them."
McTigue said he wasn't aware the project would end up being such a "green circle," but he estimates the project saves some 300 pounds of glass from ending up in the landfill every few months.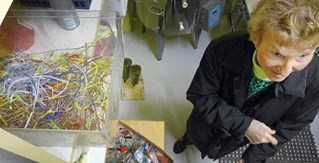 McTigue said the unique bottle plates are perfect for serving cold salads and cheese platters in the restaurant. When the bottles melt, they form a natural edge that prevents dressing from spilling. The bottle's neck then becomes a handle.
"Instead of taking all these glass bottles and throwing them in the dumpster and filling up the landfill, we're able to make these," McTigue said. "It's really neat. The residents drink the wine, then bring me the bottles. She melts them and then we use them in the restaurant. There's this whole green circle that kind of evolved out of this."
Safford has always been creative, but it wasn't until later in life that she started learning more about her art.
A number of years ago, she took a few classes at Arrowmont in Gatlinburg, Tenn., and then bought a kiln. Next she discovered a small storage area outside of her apartment building and transformed it into an art studio she shares with another artistic resident.
In her studio, Safford cuts sheets of colored glass and layers them inside molds before melting them in the kiln for several hours. If a piece breaks, she collects all the shards and puts them in the box to use in later projects.
"I don't throw away glass," Safford said. "I cut it up, melt it and use it in another piece."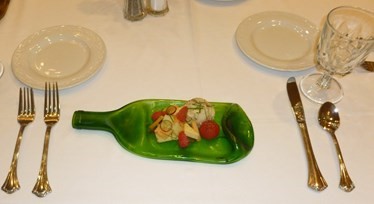 Several of her designs resemble trees, while others take a more abstract leaning.
"I just work with it and the glass talks to me," Safford said with a shrug.