Gated Retirement Communities: Providing Safety, Security, and Peace of Mind
You've spent your whole life in the grind. Now you get to retire, to slow down, to relax and truly enjoy a well-earned retirement.
You don't want to spend a single moment worried about your safety. Not if you're with your spouse, or even living alone. You don't want to have to call friends or family to check on you if something feels suspicious. You just want to live.
Plus, with the realities of growing older such as different physical needs, it's important to know you'll have access to help whenever you need it. For all of these reasons, you may want to consider retiring to a gated retirement communities. But how can you find the top senior living gated communities near you? Here's what you need to know.
The Perks of Gated Community Senior Living
Life is too short to worry about whether you're safe in your own home. This is exactly why gated retirement communities exist: to let you literally rest easy that your neighborhood is safe and secure. You never have to worry about people you don't know roaming the streets looking for trouble or even just looking – that's because a gated community protects your privacy as well as your safety!
But these communities do more to protect you than provide a physical barrier to keep unwanted and unauthorized people out. Gated senior living communities feature a full security staff that don't just check people in at the main gate – they also actively patrol the community just in case anyone got past them. Plus, they're just a phone call away – and that means if you see anything in your community you don't like, you can alert them immediately and they'll handle it.
Gated Community Amenities Remain Welcoming and in Great Shape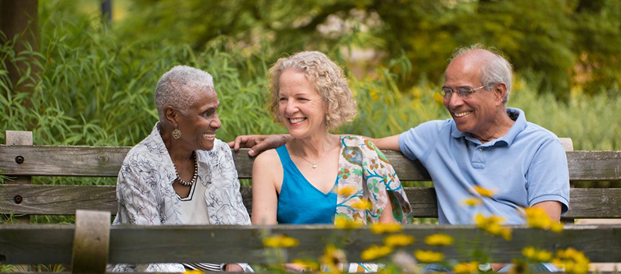 Living in a retirement community has some serious perks. They include the kinds of amenities you would readily expect to see at a high-class resort, including like swimming pools, putting greens, outdoor picnic and gardening areas, and beautiful walking paths where you can get fresh air and enjoy the great outdoors.
But keeping all these amenities in good shape is definitely a challenge – and one that's made harder if your retirement community isn't gated or doesn't have active security. When just about anyone can walk off the street and use these features, it becomes even more difficult to keep them maintained properly so that residents can enjoy them. Thankfully, this issue is nothing to worry about when you live in a gated community!
How Security Staff in Gated Retirement Communities Protect You in Different Ways
Having an on-call security force is great for peace of mind. Knowing that you've got dedicated staff out there patrolling the grounds and making sure only people who are supposed to be on the property gain access is invaluable. But there's another way that security staff in gated communities protect you, and that's when it comes to an emergency. 
Many security staff members have emergency response training, which means they're a great resource if you ever need to call someone for help because of an accident or an injury. And even if your gated community's security personnel don't have this advanced training, they know how to get into contact with the police, ambulance crews, and other first responders as quickly as possible so that you get whatever help you might need. Protection like that is just as priceless.
How to Find the Best Gated Retirement Community for You
By now it should be crystal clear that the benefits of gated communities make them incredibly attractive places for you to retire. Knowing that, though, doesn't necessarily make it easier to choose the exact community for you. There are a lot of different retirement communities throughout the United States, and you want to pick the best one for your needs that has the combination of location, services, and amenities that fit your style of life. But this process doesn't have to be difficult – especially when you choose the right gated community network.
Thanks to the Acts Retirement-Life Communities network of gated communities, there are literally dozens of great spots to choose from, each with unique characteristics. Acts has gated communities in nine states all up and down the Atlantic and Gulf Coast, all of which offer top-flight safety and security. And the best part is that if you live in one of their communities, you have access to the amenities at any other. With 27 total retirement communities, you'll always have a home away from home!
Consider the Benefits of Gated Retirement Communities
Retirement life should be relaxed and carefree. You shouldn't spend time and energy worrying about whether your neighborhood is safe for you to live in. Not only that, but you certainly should be able to enjoy everything your neighborhood has to offer without risking people who don't belong there abusing the amenities meant for you and your neighbors. Not only that, but you should live in a place where you know help is right around the corner if you do end up needing some.
Don't you think you've earned a little reassurance that you can kick your feet up and relax, secure in the knowledge that everything's going to be just fine? Of course you do! This is why gated community senior living is such a fantastic choice for a great many retirees. Offering safety, security, and peace of mind, gated communities allow you to truly enjoy your retirement without sparing even a moment of worry or being exposed to risk. If you're considering it, check out one of Acts' gated senior living communities today!