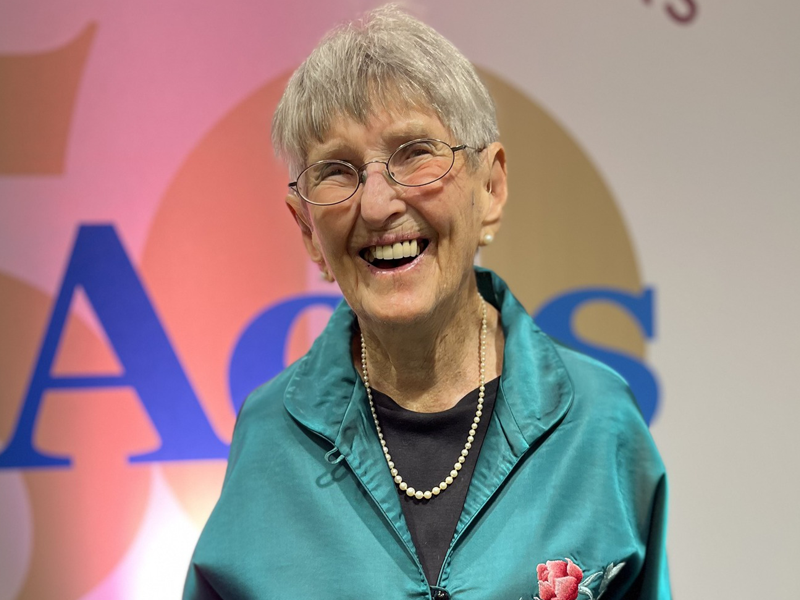 Nothing can stop Ginny. 
Born on May 10, 1920, Virginia "Ginny" Newlin is a force to be reckoned with. After growing up in the Roaring Twenties, she lived through many more monumental events, including the Great Depression, World War II, 9/11, the COVID-19 pandemic and the elections of 18 American presidents. She has also witnessed ten decades of technological advances, from the first automobiles and televisions to computers and iPhones. 
If you're interested in how to live to be happy and healthy at age 100 and beyond, we can all learn a lot from Ginny, a beloved resident of Heron Point of Chestertown.
Here are her tips to live life to the fullest.
1. Get up, don't sit around.
Ginny has always been active. "I enjoy aerobics, yoga, bocce and write poems," she said. "You have to be active."
Ginny still attends her favorite aerobics class at her retirement community three days a week.
"I was lucky as a child to be sent to a very good school, and participated in sports at a young age," she said. "I've always done sports even though I was small."
"Ginny stays active with bocce, gardening and exercise every day," said Kimberly Cox, the Life Engagement Director at Heron Point of Chestertown. "She's become an inspiration to us all, whether she intended to or not."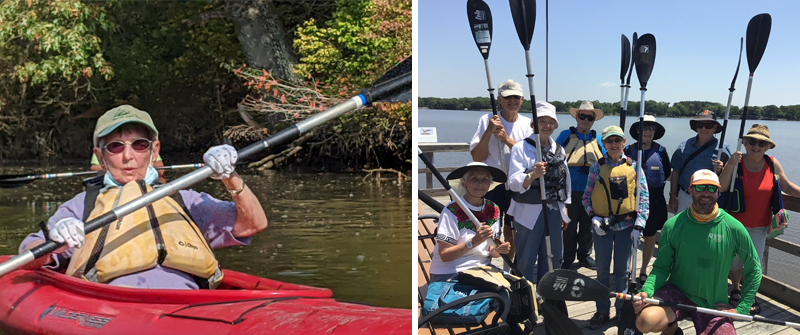 2. Don't be afraid to try new things!
Ginny learned to kayak when she was 99 years old. She pursued the water sport shortly after moving into Heron Point of Chestertown, an Acts Community near the Chesapeake Bay.
"People are healthy if they give themselves the opportunity to be it," Ginny said. "You've got to be willing to live your life, try new things. Not spend your days sitting around."
"I kept busy and had boyfriends all my life. I still have a boyfriend who sends me red roses," Ginny added. "He's ten years younger than me."
Did you know Acts residents generally live longer than the national average? Read more about how Acts residents find "Blue Zones" benefits to longevity!
3. Always be traveling and seize social opportunities.
Ginny lived in her family home until she was 99, when she moved to an Acts community, which has helped her stay socially engaged and healthy. She still lives independently in her apartment.
"My son and daughter got after me to move to Heron Point, and I was mad at first," Ginny said. "But then I found there are a lot of really nice people here."
These days, Ginny's social calendar is full of activities, day trips and other outings. Her children also joined her and a group of friends at Heron Point for a sunset cruise along the Chester River Packet.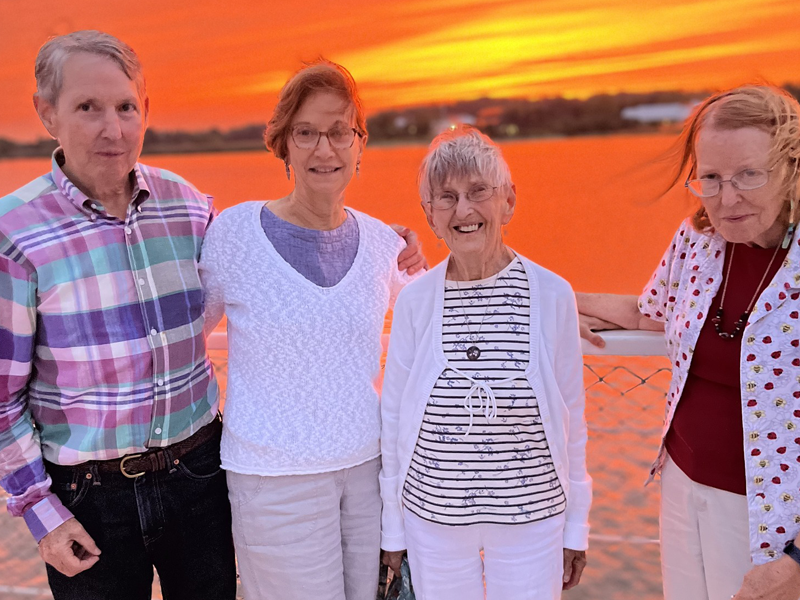 "If we take a little bit of time to get to know people, it makes a great deal of a difference," Ginny said.
Last April, at 102 years old, Ginny traveled with her sons and daughter to Europe.
"We had a wonderful time, except the weather was cold," she said.
Ginny seizes any opportunity to seek out adventure. Heron Point makes sure she is safe while she's out and about in the surrounding community, by providing transportation for group activities, or with routine check-ins.
What's the secret to a life well lived? Learn from Bayleigh Chase's oldest resident who is loving life at 104.
4. Stop to feel the dirt in your hands.
Ginny loves spending time in her garden.
"Gardening is good for people," she said. "I like putting my fingers in the dirt, it's a way to be joyful."
Being grounded and getting down to touch the earth and soil also has mental health benefits. According to studies cited by the Los Angeles Times, gardening leads to more Vitamin D, reduces the risk of dementia, and is a greater stress reducer than reading.
5. Find time to dance!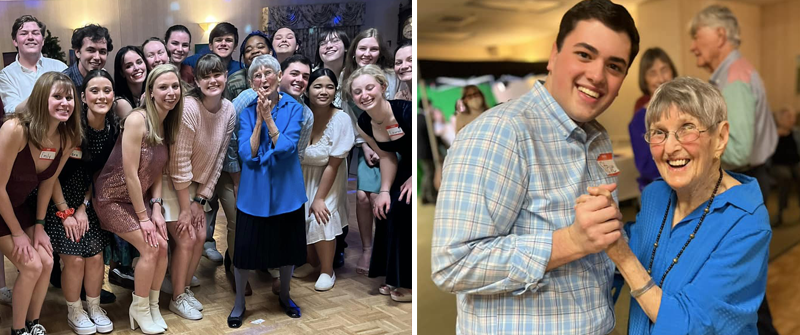 You're never too old to get on the dance floor and Ginny loves to bust a move.
Her retirement community offers a variety of nightly entertainment, and perhaps one of the most popular events are the socials with Washington College students who occasionally visit campus.
Ginny and other residents danced the night away, learning the "Dougie," "Wobble," and "Superman." Some students who attended called it the "best Friday night ever."
"Dancing with the Washington College students made me feel like a debutante again," Ginny said.
With the community's close proximity to Washington College, Heron Point routinely hosts students for a variety of events including golf, bocce, and corn hole. The meaningful intergenerational connections, learning from each other, is priceless.
Acts' residents find great fulfillment in their hobbies. Discover hobbies to improve your wellbeing in retirement!
6. Be a "little sassy."
Anyone who meets Ginny can attest she has a big personality.
"I like to laugh, love people, hug, give them pinches," she said. "Life it too short, you need to have a good sense of humor."
Laughter is abundant when Ginny is in your presence.
"So many people admire Ginny, not just because of her age," said Kimberly Cox, Life Engagement Director at Heron Point. "You can't imagine she's 103, but they also admire her and get a kick out of her because she's such a character."
"She brings a lot of joy to others, and likes to be naughty," she added.
"They think I'm a little sassy," Ginny said with a giggle.
Learn more about an Acts community near you and find out how to truly live life to the fullest!