Acts Retirement-Life Communities is pleased to announce the addition of James Glynn, Heinz Hegmann and Dr. Daniel Middlebrooks to the Acts board.
Jim Glynn is co-founder (retired) of GlynnDevins, one of the leading technology-enabled marketing agencies serving the senior living category. He is a recognized industry expert and frequent presenter at national and state trade associations. Jim started in senior living in 1981 as the Vice President of Marketing at John Knox Village, located in Lee's Summit, Missouri. Jim holds a Bachelor of Arts in Economics from Rockhurst University and remains active in numerous charitable and civic organizations including serving on the Board of Trustees for Rockhurst University and the Continuing Care Hall of Fame.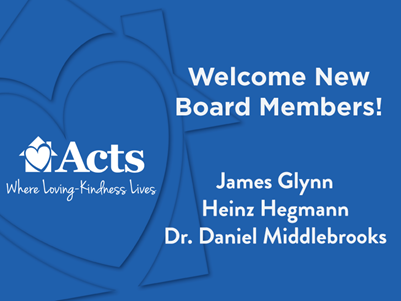 Heinz Hegmann is a retired marketing and communications executive that includes a 37-year distinguished career with IBM. Heinz is a resident of The Evergreens, an Acts community in Moorestown, New Jersey. He was appointed to the board of The Evergreens in 2021 for a 3-year term and will continue to fulfill that term on the Acts Board through 2023. Heinz also previously served as President of The Evergreens Resident Council and Chair of their Finance Committee. He holds a Bachelor of Arts in Economics from Queens College in New York. His appointment coincides with the merger of The Evergreens into Acts Retirement-Life Communities, Inc., finalized at the end of 2022.
Dr. Daniel Middlebrooks has more than 30 years of experience in areas of ministry and medical services. His impressive career includes service in the U.S. Army where he served as a Chaplain and he has received numerous military awards including Legion of Merit, the Bronze Star, and The Meritorious Service Medal among others. Since his retirement in 2013, Dr. Middlebrooks continues to remain active in his community, serving as the Senior Pastor of Hopewell Baptist Church, the Command Chaplain for multiple First Responder Agencies and Founder/CEO of Chaplaincy Care, Inc. He holds a Bachelor of Science from Athens State College and a Master of Divinity from New Orleans Baptist Theological Seminary.
"We are very fortunate to have such qualified individuals join our board of directors," said Dr. John L. Esterhai, Jr., Chairman of the Acts Board. "Each brings a wealth of business, health services and leadership experience that will be a benefit to the Acts governance team as we continue to build on our strong foundation of success in senior living services."
The Acts Board represents a diverse group of volunteer members who serve without compensation and embrace the company's mission, purpose, and values in providing senior living services.