Giving Heart: Volunteer Honored for Acts of Love
By Lisa Sileo, Communications Manager
"It's not how much we give, but how much love we put into giving." ~ Mother Teresa
Every day, Rosemary Krieger lives by Saint Teresa of Calcutta's poignant words. Her compassion and dedication to helping others is why the Edgewater Pointe Estates resident received the prestigious 2016 Junior League of Boca Raton's Women Volunteer of the Year Lifetime Achievement Award.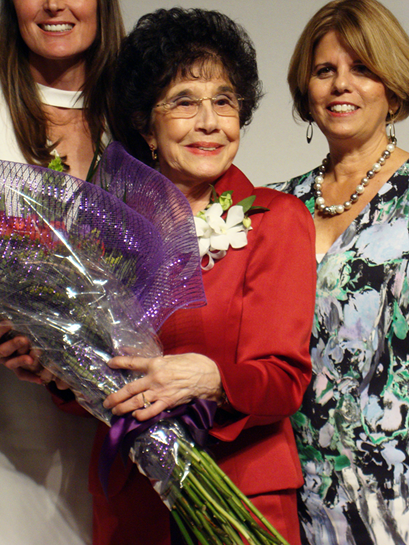 For more than 25 years, Rosemary has been a strong advocate for Aid to Victims of Domestic Abuse (AVDA), which offers a safe haven for abused women and children. In addition to providing emergency shelters for abuse victims, the group also offers crisis counseling, food, clothing, legal advocacy and relocation assistance.
"Seeing these women in desperate need of help, it touched my heart," Rosemary said. "You've seen it on TV or read about it. Many have friends who have been abused. It's a very good feeling to make a difference in the lives of these women."
Rosemary and her husband, Ben, dedicated two shelter rooms in Boca Raton named in memory of each of their parents. The November 18 awards ceremony was a family event, as the Krieger's three adult children flew in from across the country. Their granddaughter could not attend for a very good reason: she is volunteering in West Africa as a member of the Peace Corps. Clearly, giving is a Krieger family trait.
The Kriegers were close friends of late Acts resident Countess Henrietta de Hoernle, an icon of Boca Raton philanthropy. De Hoernle's selfless example played a major role in the Kriegers choosing Acts Retirement-Life Communities as their home about year ago. The couple plans to donate more time in the coming years to their Acts family, as volunteerism is at the heart of everything they do.
"Rosemary Krieger is phenomenal," said AVDA President & CEO Pam O'Brien, who nominated Rosemary. "There were a lot of amazing women nominated for this award. Rosemary was surprised and humbled by it. She's a true advocate who doesn't stop." 
One look at Rosemary's bulging daily planner, which is packed with charitable events, indicates how hard she works to help those in need. She has served on the boards and committees of numerous organizations, including the YMCA, Boca Raton Chamber of Commerce, St. Jude Catholic Church, Soroptimist Club, Food for the Poor, American Heart Association, American Association of Caregiving Youth, March of Dimes, National Association of Women Business Owners, Boca Helping Hands and the Florence Fuller Child Development Center, George Snow Foundation and Boca Raton Regional Hospital, among others. 
In the spirit of the holidays, Rosemary encourages others to give out of love.
"You can't do everything," she said. "But if you put your heart in it, you can do much more."