Do you get tired of hearing about the strict rules required to lose weight? Exercise and burn more calories daily than you consume. Don't eat donuts. Don't eat fried foods. Don't do this and don't do that. Diet, diet, diet. The heck with it! I'm going to enjoy this ice cream! Leave me alone!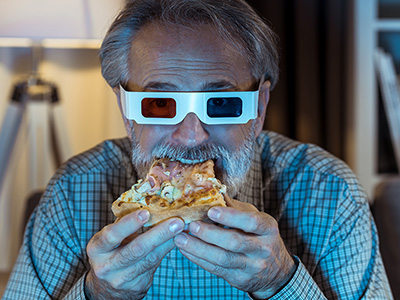 I'm sure many of you have thought this at some point in your life. I have. This type of thinking deprives us of some of our favorite foods and can even exclude us from social events. Ultimately, it sets us up for nutrition failure.
Don't go to extremes to take control of your eating habits. Try including these behavior changes into your daily routine to create healthy eating habits (American Council on Exercise, ACE).
Sleep More. Getting enough sleep every night (National Sleep Foundation recommends 7-9 hours per night for adults age 26 and older) isn't just good for workout recovery. The proper amount of sleep can also help regulate the hunger hormones, leptin and ghrelin. Disrupting these hormones can make you feel hungry and decrease your feelings of satiety (fullness). Turn off the electronics and go to sleep!
Avoid eating from large packages. When we eat from a large package, we don't realize how much we've consumed. I imagine most of us have done this at some point in time. I make sure I put a few pretzels in a bowl when eating to make sure I don't eat the whole bag. Especially watching a sporting event that makes the competitive juices flow! If you're competitive like me, be careful when watching your sporting event while eating. Your hand may reach the bottom of the bag before the first quarter is over!
Decrease distractions. People who eat with distractions usually feel hungrier and eat more. Like my example of eating while watching sporting events. Be mindful of your food while eating. You'll probably also enjoy the food more!
Slow down while eating. We have stretch receptors in our stomach and hormones in our small intestine that signal to us when we're full. It takes about 20 minutes or so for them to communicate with our brain that we're full. Slow down and don't race through your breakfast, lunch or dinner! Put down your fork between bites, create a halfway point in your meal and take a break when you get to it, and set a timer to give you feedback on how much time you've taken to eat. I've learned to put my fork down and enjoy my food between bites. It works!
Drink more water. Drinking water can help to reduce the amount of calories we consume by slowing down our meals and stimulating the stretch receptors in our stomach.
Don't let the societal influence of going to the extreme influence your eating habits. Here's to your healthy eating.
Jonathan Souder is the Fitness Director at Manor House, an Acts Retirement-Life Community in Seaford, Delaware. This column appeared in the May 9, 2019 edition of the Seaford Star.