At this point in your life, you're more than familiar with New Year's resolutions. You've probably made many yourself over the years, though we're willing to bet that at least half of those resolutions haven't panned out.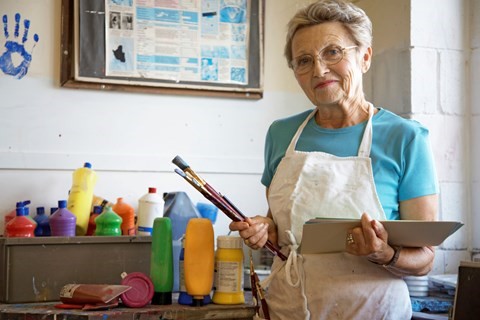 The beginning of the year is the perfect opportunity for new beginnings. An opportunity to wipe the slate clean and focus on a new goal or ambition that you've always wanted to dedicate more time toward. So, why do so many New Year's resolutions lose their luster and fall flat just weeks or even days after they get underway?
The answer is not always a lack of dedication. Sometimes, it's a lack of support, accessibility and opportunity.
Let's be honest; life gets in the way. With all the responsibilities, burdens and limitations life can bring, avoiding or surmounting those obstacles to achieve your resolutions becomes more than half the battle.
Moving to a retirement community can remove some of those obstacles, helping you find a more direct route to achieving not only your New Year's resolution, but also all your goals in retirement. And when you choose a continuing care retirement community (CCRC), you're making the responsible decision of planning for any future health care you may need.
Here are six ways a retirement community can help you stay focused on the goals most important to you:
1. Have a fitness goal? Joining a local gym is one possibility, though they're often overcrowded (especially at the beginning of the year when everyone else has fitness aspirations, too) and filled with people of varying ages and fitness capabilities. The likelihood of a true "judgment-free" gym is very slim. Plus, you're often charged extra for all the important aspects, such as professional training and group exercise classes. This usually forces most people to avoid professional fitness oversight, often leading to an unnecessary injury.
Many retirement communities, on the other hand, have full-service fitness areas, health clubs and aquatic centers offering much of the equipment and facilities that any local gym would have -- or even more! As a resident, you'd have unlimited access to these areas, typically right under the same roof as your home. With the fitness area right down the hall, excuses are hard to come by.
All Acts Retirement-Life Communities also have a certified fitness trainer on staff to help residents create and maintain a fitness routine that is both challenging and safe for that individual. Acts fitness trainers also stay up to date on the latest fitness trends, offering group classes on activities like yoga, Pilates, and strength training, among many others. The best part is, these classes are geared for seniors like yourself. You're always surrounded by peers with similar capabilities and goals.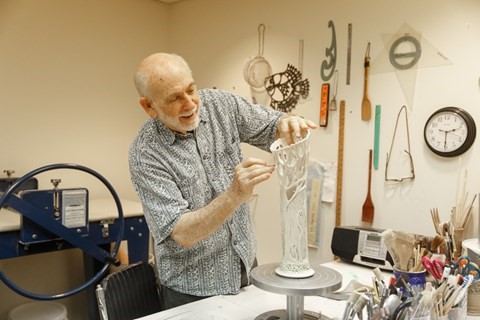 2. Perhaps you've always wanted to learn a new trade, such as painting, quilting, woodworking or pottery. For seniors still living in their homes, finding the space for this new hobby might not be possible. And purchasing the equipment needed is even more unreasonable. Even more daunting might be the idea of embarking on this type of endeavor all by yourself, not really knowing where or how to get started learning such a trade.
At a retirement community, there are often spaces dedicated to these trades and groups who meet regularly to practice them. Many Acts communities have art studios, woodshops, and craft rooms, for example, along with much of the equipment or tools needed to explore the hobby seriously. You'd also be among others pursuing similar crafts, providing the ability to bounce ideas off each other and learn from the more seasoned individuals. When you explore a new hobby at a retirement community, you may start out seeking to learn something new, but find you develop some close friendships along the way.
3. Have you always told yourself you want to spend more time volunteering? Easier said than done in many circumstances. Much like our previous examples, getting started can be a bit overwhelming. You'll begin asking yourself some initial questions like "Where should I volunteer?" and "How many hours can I realistically devote?" Furthermore, you want to ensure that you're truly making a difference for the organization you're volunteering with and the people it serves, rather than simply being asked to perform busy work. Before you know it, the thought of simply doing a good deed snowballs into a huge undertaking.
Volunteering is all about finding a service that means something special to you. When you live in a retirement community, you'll find advantages like having a support network that can help you get started in meaningful volunteer work. This can include fellow residents who already volunteer, or an activities director who may be familiar with local organizations and groups who regularly need help. And how about this for fulfilling: What's better than volunteering to help the people you share a home with every day? Most CCRCs have their own internal volunteering opportunities, including opportunities to help in the health centers on campus. Knowing you're helping to make a neighbor's day more enriched might be the ultimate reward.
4. Looking to spend more time exploring local history or traveling to new places? It might not always be a picnic planning a trip for you and even a spouse, or cost-efficient at that. The great part about joining the trips planned by your retirement community, is just that -- they're planned by your retirement community! Activities directors plan all the details right down to the finite points, and often even get special group rates for certain trips. Whether it's a day-trip or an overnight getaway, the stress of organizing the trip melts away and you're just left with the enjoyment.
Not exactly looking to stay local? One of the advantages of joining an Acts community is that there are 21 communities in eight states along the East Coast. If you're a Pennsylvanian seeking a week of warmer weather in the winter, you're always welcome to make reservations at one of our Florida communities. The best part, you don't have to worry about your home while you're gone. Simply close the door and enjoy your trip worry-free.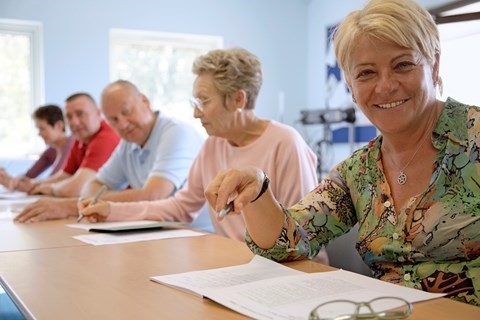 5. Some decide to further their education in the new year. This isn't limited to the young! Continuing education classes are a great way to keep the mind sharp and focused throughout all stages of life.
Many retirement communities hold lifelong learning opportunities right on campus for the ultimate accessibility. Some Acts communities even partner with local colleges for these educational courses, partnering seniors with traditional college-aged students for inter-generational opportunities that always prove successful. Learn about a field or subject that's always interested you, or master your tablet computer in a "how-to" class taught by fellow residents. The opportunities are endless.
6. With all these examples, the top argument for not fully pursuing a goal or resolution is time. "I have too many other responsibilities, I don't have enough time for that." Sound familiar?
CCRCs allow you to pursue your passions and to get involved in the many activities and clubs in the community by providing maintenance-free living. Worries that come along with home ownership such as upkeep, lawn care, appliance maintenance and repair are now just a memory. That's all done by the community. And waiting for a repair person will not interfere with your daily plans, since trusted and familiar personnel at the retirement community will be responsible for anything that needs fixing in your home.
With these burdens taken off your plate, you're left with nothing but time to pursue your dreams and goals. New Year's resolutions may get a bad rap as often resulting in failure, but when you set yourself up for success, they can quickly become passions and life-changing endeavors.