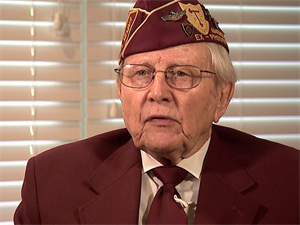 A Charlotte World War II veteran Ed Halliburton thinks today's young people are missing the boat when it comes to what Americans went through and sacrificed during WWII.
"I hope that it will click in somebody's brain that they will think about it sometime," Halliburton said.
s a young man, he was a radio operator, part of a bombing crew aboard a B-24. En route to Berlin, his plane was shot down and crash landed. Later he spent six-and-a-half months as a prisoner of war in Switzerland, later escaping and making it back to England.
Losing many friends, and witnessing the horrors of war, has left Halliburton wondering about where the disconnect is between his generation, and his grandchildren's generation.
"We need to think more about the country, what we can do for the country. As Kennedy says, it's not what you can do for yourself, but what you can do for your country... rather than how much I can get," Halliburton said.
While there has always been differences between generations, many have expressed outrage over a teenager's selfie at Auschwitz, the Nazi death camp in Poland on the micro-blogging website Twitter.
Halliburton will continue to show and tell anyone about his service to his nation hoping to inspire anyone who will listen.
http://www.wcnc.com/story/news/local/2014/07/28/selfie-generation/13293293/