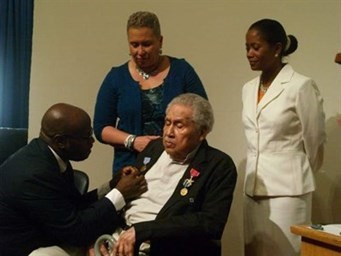 James H. Gilliam, Sr., thinks the medals he finally received on Friday morning are fairly nice.
So nice, in fact, that he got up early to have them pinned on by longtime friend, US Sen. Chris Coons, D-Del., despite his misgivings over a morning roll call.
"I don't like breakfast," the 94-year-old Gilliam quipped in front of an auditorium packed with family and friends eager to see Gilliam get the accolades he so long deserved.
Gilliam is the twelfth veteran Coons' office has helped locate their post-war medals after many records were lost in the passing decades to fire or mishandling.
He's also part of the hundreds of veterans Coons' office has helped for numerous reasons in the past year, from receiving their medals to finally receiving their benefits from the Veteran's Administration.
HONORED AT LAST
Gilliam said that getting his medals - including the coveted Bronze Star - was a chance to bring to light the hard work of the men and women of the Buffalo Soldiers, the African American infantry division of WWII of which Gilliam is a member.
"I think the Tuskegee Airmen are wonderful, but there were many, many other black units that served in the war that did a magnificent job - units that you never heard of," he said. "Like us Buffalo Soldiers."
Ever the activist, Gilliam also used his brief moment in the spotlight on Friday to address what he said were, "the inequities that exist in our country."
Gilliam recounted a time when he was stationed overseas and got to share a drink with a fellow officer who was white, and lamented how - at that time - such an arrangement would have been frowned upon in their home country.
"Believe me when I tell you, that war ain't over," he said. "We need to sit down and fight the war of subtleties that exists."
Of his friend Sen. Coons, Gilliam said he was a "pretty good guy," and for more than just working to get him his medals.
"A politician who's both a lawyer and a preacher - ain't that a hell of a man?" Gilliam said.
Standing backstage after the ceremony, Coons smiled and shook his head at the remark.
"Mr. G always has something to say," he said.
GIVING BACK
Brendan Mackie, constituent advocate for Coons' office, said that as a veteran who served in Iraq and Afghanistan, handing cases like Gilliam's is important on a personal level.
"I want to keep giving out and giving more, and Sen. Coons has helped me so much with that," Mackie said. "We get so many calls from veterans who need assistance, whether its medals or medical records … and I like to see every veteran get his due."
He added that they've helped over 240 veterans this year, and helped restore over 30 medals that have been delayed for decades.
Gilliam's daughter, Patrice Gilliam-Johnson, said that Mackie and others in Coons' office worked tirelessly to help her father find the medals he'd long been promised.
She also said that Coons is a personal friend of her family, and a constant presence in their lives even during his time in office.
"It was Sen. Coons who, as county executive, spearheaded the effort to have the James H. Gillman county building named after my father," she said.
LEGACY OF SERVICE
Following a video on Gilliam's life, produced by the Grand Opera House of Wilmington, Coons said that the movie showed the art of Gilliam's service to the community, which is long and now part of New Castle County history.
He added that he actually had very little to do with selecting Gilliam for the county building's namesake  - there was an open competition among Delaware's workforce to nominate any one, past or present, Delaware or nationwide.
"His name came up more than any other," Coons said, adding he was still admired and loved for his passion in housing and in righting the wrongs he encountered daily.
"The purpose of our organization is to spread the news and teach about the legacy of the Buffalo Soldiers, and most of that is in the origins back in 1866," said Buffalo Soldiers Motorcycle Club of Delaware member Skip Hutson.
He and several other members of the club heard about the ceremony through social media and decided to make the trip up from Dover.
"For us to be able to meet with and honor someone who is an actual Buffalo Soldier is a real honor," Hutson said.
"He's always saying something, or giving you a gift just by sitting and talking with him," said lifelong friend Tony Allen, adding that when he once sought advice from Gilliam, he was told - after a long silence - not to miss his moment.
"This man has had many great moments, he's not missed one of them - and he doesn't want any of us to miss ours, either.
Gilliam is a lifelong Delaware resident, now living at the Cokesbury Village in Hockessin.
http://www.hockessincommunitynews.com/article/20140829/NEWS/140829699/?Start=1