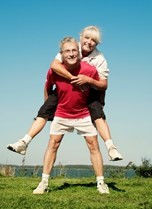 January is the time of year when most people promise to make a change in their lives. The most common New Year's resolution? "I want to lose weight and make more healthy choices!" And for most, altering their current lifestyle is easier said than done.
What helps me stay focused is re­membering how difficult it will be to get back on schedule and shed any extra pounds I may have gained during the holidays.
If you follow these suggestions, you will be able to carve out a little time to fit in exercise and even make it fun:
• Put exercise on your schedule just as you would any other appointment; research shows that you're more likely to do it if you schedule time for it
• Break up your exercise into segments - it's much easier to do three ten minute bursts of exercise rather than one thirty minute slot
• Wear comfortable shoes when you go shop­ping so you can walk briskly between stores
• Be creative, and do something different for exercise: Take the stairs, do leg lifts or knee bends while in the laundry room, or do curls with light weights while relaxing in front of the TV
• Go for an after-dinner walk - not only will you burn some extra calories, but it will help you sleep better
• Ask a friend to hold you accountable by ask­ing if you worked out
• Forget about losing weight, instead think about the positive effects your efforts will have on your overall well-being
• Even if you skipped a scheduled exercise session, don't give up - altering your daily routine is difficult but the benefits are invaluable.
Keeping any New Year's resolution can be difficult, but if you choose this specific one, these tips can help you get started on the right foot. Have a healthy and happy 2014.
Fitness Instructor Oris Martin serves three ACTS Retirement-Life Communities in the Boca Raton, including Boca Pointe's Edgewater Pointe Estates. She holds a Bachelor's in Exercise Science from FAU and has been teaching for over 10 years. For more information about Edgewater Pointe Estates and if you have any questions please call 561.391.6305.