When Joan Rogers moved into her Westminster Village home six years ago, she never thought she would touch so many lives with the game of bridge.
Joan's first introduction to bridge was as a teenager, watching her mother play. She picked up the game a bit in college, playing frequently at her sorority house. It wasn't until she retired that she caught what she called the "bridge bug" and became more serious about learning how to play.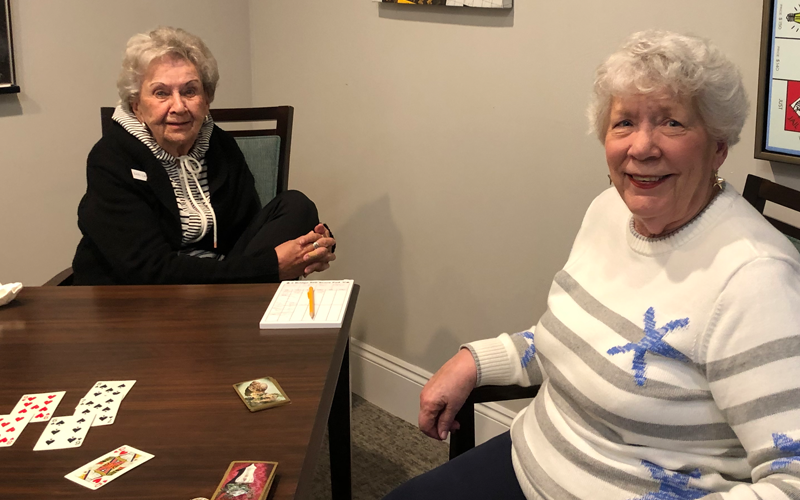 "I couldn't get enough of the game when I retired," Joan said. "Two years later, I began mentoring and teaching some friends."
At her Spanish Fort retirement community, she's affectionately referred to as the Queen of Bridge. Soon after moving in,  Joan started teaching bridge lessons to help residents who wanted to learn the game feel more comfortable playing with advanced players. The number of her students grew quickly.
"The first day I offered to teach bridge, six people signed up. At the next one, twelve people, and then 21," Joan said. "I began 10-to-12-week lessons with different levels, beginners to intermediate bridge."
"Students were not comfortable learning advanced techniques -- and that's okay. You can play a very good game without the bells and whistles of advanced play. The important thing is to enjoy the game."
Today, about thirty residents routinely play bridge at their community, many of them Joan's students.
"I found I had a heart for helping others learn and it strengthened my game at the same time," Joan said.
Joan's proudest moment? When two of her students won first and second place at a bridge tournament she directed two years ago. "They had the luck of the draw for partners which levels the field," she said, "Two of my students won first and second high score. I was so proud; really beaming ear to ear."
This January, residents at Westminster Village honored their Queen of Bridge by holding the first tournament in her name, and the annual Joan Rogers Bridge Tournament drew an amazing turnout. At the event, Joan was recognized with the Grand Champion award, and presented with a plaque for earning the highest score ever recorded at the community – 6,280 bridge points in 18 hands, which she won at a game played in October last year.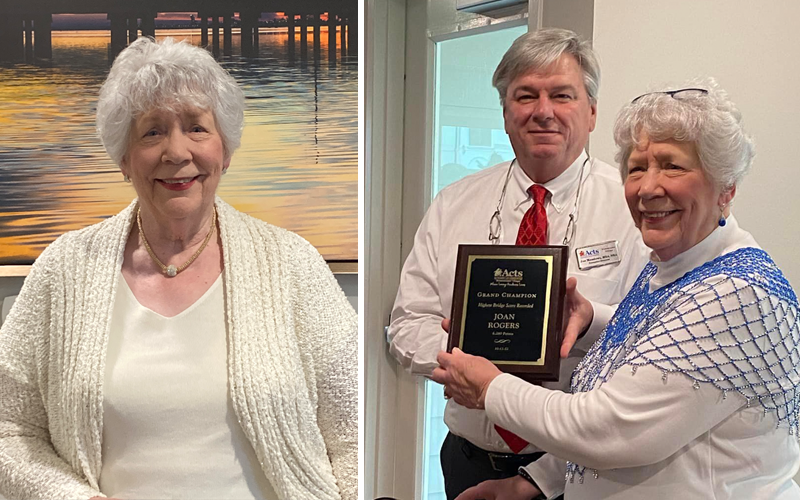 "I love bridge because every hand is different, and there's always the possibility you'll be dealt with a slam hand," Joan said, "It's very challenging and demands your complete concentration – if you aspire to play your best, even if you are dealt a poor hand."
"It's also a very social game. I have made so many friends through my association with bridge," she added.
Friendships are special at this Acts community, as residents see their neighbors more like family.
"This is like a family here, we're close. We also have a wonderful ambassador program for new residents coming in, to answer all your questions and make you feel welcome right away," Joan said.
Joan's parents also lived at Westminster Village for 11 years. She had always intended to move there,  and one day she did, at 76 years old, and has never gone back.
"I woke up one morning and thought, 'it's time to go,'" she said. "I didn't want to wait."
After crunching the numbers, she found the constant upkeep to maintain her old home was what it would cost to move into Westminster Village and live stress-free. "I thought, why am I beating myself up trying to run a household, when I could have all these services done for me. It was a no-brainer."
Joan couldn't be happier with her easygoing lifestyle, close to her friends, playing bridge five days a week, without any worry or responsibility that comes with home ownership. She said, "I had lived in my home for 25 years, and I've never once gone back to look at it. I have no regrets."
"My apartment is perfect for me," she said, "This is where I belong."
 Read more about the importance of hobbies to improve your wellbeing in retirement.