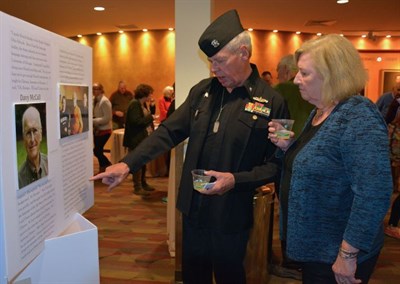 World War II was the focus of a program at Washington College's Decker Theatre on Veterans Day, Tuesday, Nov. 11.
"The Real War: World War II Veterans Remember" was created by students at the college's C.V. Starr Center for the Study of the American Experience. The recorded narratives, drawn from 45 to 50 oral history interviews, were combined with film footage from the war and still photos contributed by the veterans. Music from Trio Galilei and monologues by student actors, based on other interviews, filled out the program, which drew a full house, including many from the Heron Point retirement community.
Alex Foxwell, a history and drama major at the college, described the oral history project. He invited any audience members who served in the war, or whose family members served, to contact the Starr Center to contribute their own narratives to the ongoing project.
The program began with a wartime recruiting film for the Air Corps Reserve, encouraging young men to enlist and "smack the enemy where it hurts the most." The film, which ran as a short subject in movie theaters, gave a Philadelphia phone number for prospective enlistees.
Student actress Kristen Barnes read Edith Foley's account of growing up as a resident alien in wartime Germany. She told of the rationing, more strictly enforced on non-Germans, and of the Allied air raids becoming "a normal thing," with civilians huddling together in shelters as the sound of exploding bombs came closer.
Sy Ellenhorn was one of the local residents who participated in the project. He told of growing up in Brooklyn, N.Y. and reporting for his draft physical, where the doctors told him, "You can walk, you're in." He became a waist gunner on a B-24 bomber, a plane he described as "a tin can" built as quickly as possible with no concern for crew comfort.
Ellenhorn described the resourcefulness of wartime troops, warming up K-rations on the heated barrel of his machine gun and stealing milk from the officers' mess to make ice cream in the freezing bomb bay. "You have to be a little crazy to survive" in wartime conditions, he said.
He described anti-aircraft fire around German targets, telling of another gunner on his plane who escaped being hit when he left his turret to talk to Ellenhorn.
Flak brought down Ellenhorn's plane after a raid on Munich, and he parachuted into the Adriatic Sea - the only man on his plane to survive. He was picked up by a British minesweeper and brought back to a hospital in Italy. Deciding there was nothing wrong with him, he walked back to his base, to be greeted by a friend with "You're supposed to be dead."
Wilson Landis also flew in B-24s. He was shot down over Yugoslavia, where local partisans who "hated the Germans" helped him escape. German Me-109 fighter planes searched for survivors on the ground. "We could see them, but they couldn't see us," he said.
Student Dominick LaGrotta read a monologue by Joe Doherty describing his service as an artilleryman on the European front. His unit took part in the Battle of the Bulge in December 1944, escaping capture in the Germans' desperate last offensive of the war.
William Campbell graduated from the U.S. Naval Academy in 1944, and served on destroyers in the Pacific. His ship fought in the battle of Leyte Gulf in the Phillipines, becoming "the last surface vessel to sink a battleship in wartime."
James Watson also served in the Pacific, rescuing a young Japanese girl who had been on a sunken merchant ship. He became an underwater demolition specialist. He summed up his wartime experience succinctly: "I lucked out - not everybody makes it."
The final piece was a letter informing the Fithian family of Rock Hall of the death of Albert Smith Fithian - "Possum" to his fellow Marines - in the assault on Okinawa, May, 1945. The letter writer told of Fithian's playing guitar and singing for his buddies. He was described as "a brave boy" who frequently rescued wounded comrades under enemy fire. Hit by machine gun fire, he died instantly, the letter said. The writer called him "a damn good Marine."
Heron Point chaplain Anne Ledbetter concluded the program with a prayer for veterans.
Trio Galilei, which plays regularly at Walter Reed Hospital, filled the intervals between film clips with quiet music, ending with "Amazing Grace" and "Simple Gifts." The group consists of Ginger Hildebrand on guitar and violin, Sue Richards on harp and Carolyn Surrick on viola da gamba.
Photos of the veterans and excerpts from their stories were on display in the lobby outside the theater. Among the local residents recognized were Vince Raimond, Davy McCall, Henry Gruber and Alvin Brown. Their stories included McCall's training to be a Chinese interpreter, Robert Kitz's story of Omaha Beach on D-Day and William Hurley's description of a Japanese kamikaze attack.
Also on display were a selection of World War II helmets, uniforms and other memorabilia from several different nations, including a Japanese flag.
Before the formal program, the Washington College dining hall hosted veterans of all wars, plus their guests, for a meal. Attendees ranged from the World War II veterans to some who served in Iraq and other recent conflicts.
http://www.myeasternshoremd.com/news/kent_county/article_da42abb3-07b5-5fb3-a9cb-56ea2a54a811.html