"I didn't realize I could be a TV star," said Stuart Phillips, who set up his camera to record himself teaching a fitness class. 
Phillips is a fitness trainer at Park Pointe Village in Rock Hill, South Carolina. He is one of the many fitness trainers at Acts-Retirement Life Communities who have fully embraced a new era of fitness in senior living: virtual classes, personal fitness training via iPad, and socially distanced in-person classes.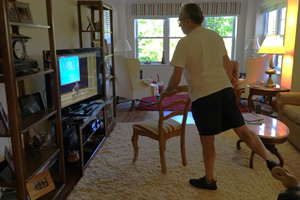 A New Normal
While COVID-19 forced the shutdown of fitness centers and gyms across the country, Acts communities have increased their fitness classes and offered new programs to meet the demands of active residents. In fact, despite statewide "stay at home" orders, more seniors than ever before have participated in innovative fitness programming at their retirement communities. 
Age is no obstacle to the technical advances of in-home fitness. Most older residents favor the flexibility of virtual classes, and instructors say they are fully engaged in their communities' new fitness programming, which is conveniently streamed on their in-house TV channel.  
New Classes Attract More Residents
"Residents have been very open-minded and willing to learn new ideas, especially in terms of technology," said Kerry Wein, fitness trainer at Fort Washington Estates in Fort Washington, Pennsylvania.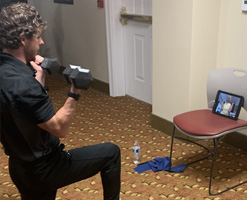 "With virtual classes, we can be very creative, adding new classes to attract new residents," said Jane Pedicone, fitness trainer at Spring House Estates in Lower Gwynedd, Pennsylvania.
Fitness staff has loaned hand weights, balls and exercise bands to residents, and some instructors incorporate household items in their classes to help residents who don't have gym equipment. Lori Bachman, a fitness director at Heron Point of Chestertown, in Chestertown, Maryland, gives residents an impactful workout with soup cans in her virtual weight training class.
"We have been able to reach so many more residents who never went to the gym. Videos allow us to add variety to our programming as well as offer classes in the evenings and weekends," said Kimberly Huff, Acts Director of Fitness and Wellness.
Meaningful Connections
Where permitted by law, some fitness centers have remained open with restricted class sizes to allow for social distancing and frequent sanitizing of equipment. Despite having classes at a distance apart, staff members say they are making meaningful connections with residents.
"I get to know the residents on a new level," said David Tooher, fitness director at Buckingham's Choice in Adamstown, Maryland, who has kept in touch with residents through phone calls to meet their needs. Fitness trainer Maryjo Loucks agrees that despite the challenges, trainers are building better relationships with residents: "This experience has given all of us, residents and staff, a new appreciation for each other. It has really brought our community closer together."