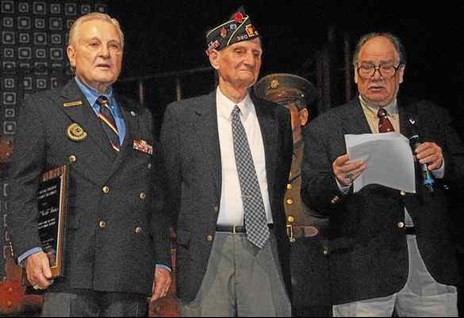 Three veterans have recently been honored by Delaware County organizations for their military service and civic contributions.
Ed Buffman
Ed Buffman, World War II Navy combat veteran, received the prestigious Themis Award on Friday, May 6, from the Delaware County Bar Association at a special Law Day celebration at the Delaware County Court House. The award was presented by Vincent B. Mancini, Esquire, vice president and 2016 Law Day Chairman.
The Themis Award is awarded to a non-lawyer who has performed outstanding services in an area which has engendered great respect for the law, stimulated the concept of individual responsibility, and encouraged recognition of the responsibilities of citizens.
Ed was on the battleship USS Missouri during World War II, and was a witness to the signing of the Surrender which ended the war. Ed is also co-founder and chairman emeritus of the Pennsylvania Veterans Museum, which recently celebrated its 10th anniversary.
Stan Woerth
Stan Woerth, of American Legion Post 93, Media, was recently presented with a "Distinguished Service Award" by Bill Lovejo, chairman of the Pennsylvania Veterans Museum.
Stan has been a great supporter of the Pennsylvania Veterans Museum, providing information of events and activities at the museum and publicizing Veterans Night at the Media Theatre.
Stan has been a member of the museum since its inception. He is a veteran who is committed to helping his fellow veterans. The board of the Pennsylvania Veterans Museum thanks Stan Woerth for his loyalty and support to the museum.
Woodie Benson
World War II Navy combat veteran Woodie Benson, of Lima Estates, Media, was recently honored at the Media Theatre by the Media Theatre Veterans Alliance. Woodie served in the Army Aircorps as the 57th Squadron navigator, flying a C-47 plane.
Woodie participated in many Pacific battles and his was the first 5th Air Force plane to land at Leyte Gulf in the Philippines, which was one of the largest battles of World War II. Woodie earned the Air Medal with 3 oak leaf clusters, and the Asiatic Pacific Medal with eight bronze battle stars for his service to the United States of America.