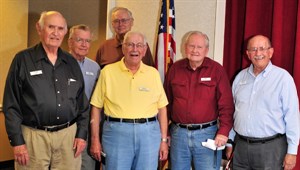 With 110 U.S. Armed Services veterans living at Tryon Estates, that facility boasts the largest concentration of veterans in Polk County. Some of those individuals shared bits of their experiences, leading up to Veterans Day, November 11.
Many of the veterans at Tryon Estates will participate in Polk County's annual Veterans Day parade. Tuesday's parade begins at 10 a.m., arriving at Veterans Park for a ceremony at 11.
"I for one, am grateful for my service," World War II veteran Jim Hostetter remarked. Hostetter mentioned that his duty occurred so long ago that he has only "dim memories" of it. However, he emphasized, that he is also "full of gratitude" for how the country treated him on his return to civilian life. The GI Bill enabled Hostetter to purchase his first home.
U.S. Army Air Corps veteran and B-17 bomber crew member Sandy Groendyke, became a prisoner of war of the Germans, when his plane received flak, and crew members were forced to make an emergency crash landing. Somehow, the plane landed relatively safely. "It was the right place, (to land)" Gorendyke remembered.
Just two years ago, Groendyke explained, a German citizen notified him that he (the German) knew where that B-17 went down. Groendyke returned to the town near the crash landing, met with others who had either seen or heard the craft hit the ground. Those townspeople took Groendyke on a local tour. Airborne B-17s made a distinctive sound, said local residents who knew what the plane was before it landed. "It was a wonderful experience for each of us," Groendyke said of his visit back to the scene.
While so many veterans of World War II and other wars have received heroes' welcomes at home, most Vietnam veterans did not. Such was the case for Tryon Lindabury, who flew B-52s and helicopters during his service in southeast Asia. "Veterans Day has become meaningful for me only since moving to Tryon Estates," announced Lindabury, an Air Force veteran. Only in 2013, shortly after Lindabury moved to Tryon Estates, and participated in last year's Columbus Veterans Day parade did he ever receive a warm welcome. After his previous negative experiences since returning from Vietnam, "I was almost in tears," he said.
In 1951, Jim Daily joined the Naval Reserves, able to complete his undergraduate degree just prior to entering active duty. "Welcome to the bastard navy" announced the officer of the deck, to new recruits. Daily mentioned that "the ships I sailed on were staffed by civilians." Those ships carried personnel to many points in the Pacific. Daily estimated that in two years, he traveled some 100,000 miles by sea
On May 8, 1945, remembered Stan Howell, he saw the mountains of Austria, and said, "Wow!" Howell "offered a prayer. It was a feeling I might live. I might get to college." Shortly after that, German servicemen, flying a plane stolen from the Americans, strafed American troops, killing a buddy of Howell's. Howell has tried to locate where his buddy was buried, with no success thus far.
"Just because I'm still alive," began Tom Chamberlain, "I'm supposed to be something special. I don't feel that I was." Like many others, however, he felt fortunate to receive GI Bill benefits. "I was sure thankful to be able to go back to college," Chamberlain recalled. In fact, the GI Bill, officially the Servicemen's Readjustment Act (of 1944), has been lauded as possibly the best effort of Congress. Howell noted that he and other Allied troops marched as far as the Enns River, near Steyr, Austria, the limit of advance set for them by Allied leaders. In 1984, Howell returned to that spot on the Enns. Howell, who appears more relatively youthful than some other WWII veterans, noted that he was a baby, just 18 when he joined the service near the war's end. "I did 59 days of combat," Howell recalled. "I got shot at and I lived."
Veterans who spoke at Tryon Estates, as did those who spoke at a special World War Two D-Day ceremony in Tryon this past June 6, bore no animosity against their former enemies. "They are truly the greatest generation,'' said Sara Staton, director of resident services at Tryon Estates. "They took that education, and made the world a better place."
http://www.tryondailybulletin.com/2014/11/07/veterans-of-tryon-estates-share-some-of-their-experiences/