When Woodie Benson opened the package presented to him at Honor Flight at St. Kevin's Church in Springfield, inside was a letter from a woman from Wellsville, Utah. Little did he know that they would become close friends through correspondence despite the distance of 2,178 miles between them. Never did he guess that they would meet in person.
Pam Loosle wrote the letter on Nov. 26, 2012, sending it to Operation Gratitude. She did not know where it would go and whether anyone would write back to her. "Seven of us wrote letters four years ago. The letters could go to anyone in the service. I wrote that I was thankful for his or her's service and appreciated the freedoms we have," said Loosle.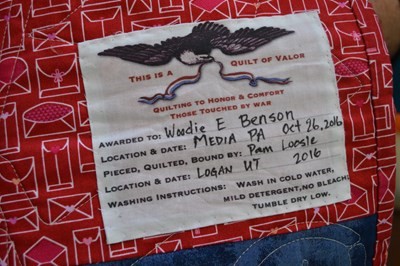 Loosle worked for 25 years for the U.S. Post Office as a letter carrier. The 57-year old is a mother and grandmother. The retired letter carrier is married to a Vietnam veteran so she knew the sacrifices the military make. Loosle and Benson became pen pals. Benson served in World War II.
The combat veteran decided to write back to her.
"I wrote back on June 17, 2013. I felt that if she wrote the letter, I should write back. We have been writing for almost four years," said Benson.
Benson served in the Army Air Corps as the Captain of 57th Squadron navigator, flying a C-47. He participated in the Pacific front and was the first 5th Air Force plane to land at Leyte Gulf in the Philippines. He earned the Air Medal with three oak leaf clusters and the Asiatic Pacific Medal with eight bronze battle stars. He flew 1,400 hours overseas and 800 combat hours. He met his wife, an Army nurse, on a carrier and 18 days later asked her to marry him. They were married for 65 years.
After getting out of the service he went to University of Penn and Widener University at night. He worked on computers at Atlantic Refinery Co. and then Sun Oil. The 96-year old is active at Lima Estates Retirement-Life Community. He earned medals competing in the Senior Olympics and is an active member of the American Legion Post 390, which meets in Lima Estates.
In the letters they exchanged stories about their families, their lives and their views. He told her stories about his experiences in the Air Corps.
"It's hard to compare text and email to actually receiving a letter. He is a great pen pal. I love to hear his stories about his service," said Loolse.
As she learned more and more about him and his family, she started making a Quilt of Valor picking out fabric to honor his service, the man he is and their friendship. She decided to surprise him with the quilt flying in from Utah to visit him.
The Quilt of Valor is a national organization. Quilts are made to comfort and honor veterans. To date 148,145 have been made.
The two met for the first time on Oct. 26. He knew that she was coming but didn't know about the quilt. On that day she presented the letter and the quilt.
"I knew her right away and we hugged, "said Benson.
"I never really expected to see her and that she would come so far just to see me. I felt like I really knew her because we exchanged pictures. When I received the quilt it was so humbling. I never thought that anyone would take the time to make something like that for me," said Benson.
She and her friend, Carolyn Jones, spent the day with Benson before going back to Utah. Their main purpose was to honor the veteran with the quilt and to meet. Loosle hopes to come back and see him again.
"He's like an uncle or a grandfather. We have quite a connection and so many things in common. We are both positive people looking at glass as half–filled instead of half empty. He has a great outlook on life and he is a positive person. He saw many things in combat but he didn't become bitter. He's a genuine American citizen and proud of his country," said Loolse.