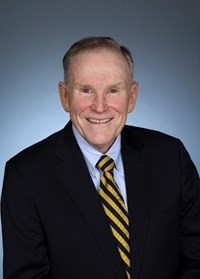 The Acts Board of Directors at its December meeting made an official proclamation to change the name of the Acts Legacy Foundation Disciple Fund to The Reverend George R. Gunn, Jr. Disciple Fund. George was Acts' CEO and Vice Chairman of the Board of Directors from 1995-2005. Following his retirement, George continued to serve as a member on the Acts Board through 2022. The proclamation and fund's renaming are in recognition of George's service to the Acts Board, where his legacy of dedication, commitment and many inspirational contributions continue to positively impact the organization.
Established in 2000 as part of the Acts Family of Charitable Funds, The Reverend George R. Gunn, Jr. Disciple Fund provides assistance to retired clergy members of all faiths helping to reduce entrance and/or maintenance fees for residency in an Acts community. 
The Acts Family of Charitable Funds support benevolence, program, and mission development objectives core to the Acts Retirement-Life Communities mission. When you make a gift to Acts Legacy Foundation, your gift benefits the fund, community, and program of your choice. There are many Ways to Give. Please contact the Foundation to learn more.