St. Andrews Estates is using its own indoor garden to add flavor and beauty to the delicious meals cooked at its restaurants.
A hydroponic garden is a method of growing plants without soil, by using mineral nutrient solutions in a water solvent. Hydroponic gardens allow growing to happen anywhere - even in the Culinary Director's office. All it needs: purified water, lights, a small water pump, sponge, some PVC pipes and a little time to grow.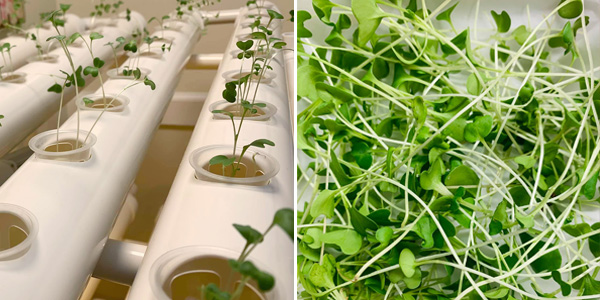 The culinary team's first plant was broccoli sprouts. These photos show the before and after two weeks later. Next up: lemon mint, micro-greens kale, arugula, romaine, cauliflower and broccoli! 
We asked Sabine Dessau, our Culinary Services Director at St. Andrews Estates, the benefits of using a hydroponic garden in senior dining.
Q: How did you get the idea of a hydroponic garden?
A: My assistant, Cesar Padron and I were talking about how great it would be to start a garden to add special touches to our dinner plates. Some restaurants have gardens filled with herbs and fruits, but it would take too much work to man a garden with our schedules. I had the idea of a hydroponic gardening because I had done it at home with my children and it was so much fun.
Q: How much food can you grow and how long does it take?
A: This garden has 108 reservoirs so I am able to use it for one entrée. The growth cycle depends on the plant. Salad microgreens took ten days to grow. I am currently growing lemon mint which will take 30 days. Microgreen beets will take eight days.
Q: What are the benefits of an indoor garden?
A: Hydroponic gardens are great because you literally set it up anywhere that has an outlet. You have complete control of the plant – nutrients, water, sunlight. Simply put, it's easy. I check my pH levels daily to make sure the plants are at a lightly acidic level to ensure they absorb the nutrients. Hydroponic systems can grow 30-50% faster than in soil. There is no worry of pests, weeks or fertilizers. It also uses less water as an "ebb and flow" system, the water is recycled, pumping to the garden and flowing back.
Q: What do residents think about the new garden?
A: Residents have really enjoy it and come to my office to check in on the plants or ask me what I'm growing next. We make sure to list it on the menu when we use it. Staff also have enjoyed watching the growing process!