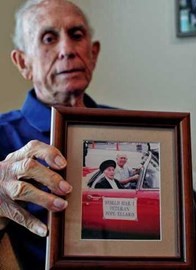 The Great War' remembered, 100 years later
Impact of World War I was felt in Hall, and in history
The 29 names inscribed on the American Legion plaque proclaim the Hall County troops' "ultimate sacrifice" in World War I, but their stories are tucked away in state records from the era.
Silas Dunnegan was killed in the trenches during the Battle of Argonne, Hubert Ledford was killed in his first battle and Daniel McKinney took a machine-gun bullet in the Battle of Château-Thierry.
And though he's not on the plaque, a book produced by the state, "In memory of the Gallant Sons of Georgia," shows Albert Parham died "together with every man in his company" on the Argonne front on Oct. 7, 1918.
Such was the brutality of World War I, which began 100 years ago Monday when Austria-Hungary declared war on Serbia. The four-year "Great War," as it was then called, was supposed to be the "war to end all wars," but it would set the stage for world-changing events throughout the 20th century, including World War II and the Cold War.
Tank and aerial warfare, the United Nations, global communism and chemical weapons can be traced to the war, which has been upstaged in modern times by the more horrendous World War II and the divisive Vietnam War.
"National boundaries were redrawn (after the war), almost haphazardly, especially in the Middle East," said Glen Kyle, managing director of the Northeast Georgia History Center in Gainesville.
"And that has just kept on boiling until we get where we are at today - for example, in the Balkans (region in Europe) and the Middle East. It all goes back ... to how those boundaries were drawn."
America didn't get involved until 1917, prodded some by Germany's sinking of the British liner RMS Lusitania with 128 Americans among the dead. President Woodrow Wilson finally declared war after enemy submarines sank some U.S. merchant ships.
The U.S. ended up losing 116,708 lives in the war, compared to 407,000 in World War II.
Veterans in both those wars would return to military parades and other celebrations, but World War I would go on to launch things familiar to us today: the American Legion, Veterans Day (formerly Armistice Day), a new system of veterans benefits and the League of Nations, which preceded the United Nations.
The Paul E. Bolding Post 7 of the American Legion in Gainesville was founded after the war, named after Bolding, who was believed at the time to be Hall's first fallen serviceman. The Marine's photograph and military garb are on display at the post, which is at 2343 Riverside Drive, overlooking Lake Lanier.
Also displayed is a letter from Bolding to his mother, written Aug. 14, 1918, from France on stationery provided by the American YMCA.
Much of Bolding's cursive writing has faded and is now illegible. One passage describes a wound of some kind, with Bolding saying he "didn't stay in the hospital too long."
Bolding died Oct. 3, 1918, his body at Gainesville's Alta Vista Cemetery, under a monument bearing an eagle's image.
History would later show that James T. Bailes was the first Hall veteran to fall, dying in France while serving in the U.S. Army infantry on Sept. 26, 1918.
The history center features a small World War I exhibit, basically a uniform, leggings and the emblematic "doughboy" helmet worn by U.S. troops encased in glass.
The display also features some "trench art," which gives a clue into the life of a soldier bogged down in the one of the war's many defensive positions.
Utter boredom was punctuated by moments of sheer terror - mortar shells exploding all around on the battlefield - and living amid wet conditions, mud, rats and disease.
"It was constant, unremitting misery," Kyle said.
Many troops suffered from "shell shock," an early version of what is now commonly known as post-traumatic stress disorder.
And many died not from bullets and bombs but illness. That was the case with several of Hall County's fallen, who suffered from such conditions as pneumonia, tuberculosis and, in one case, spinal meningitis.
"Before World War I, for the previous 100 years, you had progress, progress, progress, at least from the point of view of most people in the West," said Jeff Pardue, the University of North Georgia's interim department head of history, anthropology and philosophy.
"There was the industrial revolution, countries getting richer and more technologically advanced, and more democratic. Everyone assumed my children's future is going to be better than mine. Then along comes World War I and all of this new technology is being used to slaughter people on a scale the world had never seen before."
The war also helped foment deep resentment and hatred in one of its combatants - a young Austrian-born corporal, Adolf Hitler.
"It would greatly affect his attitudes," Pardue said. "He felt extremely betrayed by the German government when it called for the (cease fire)."
World War I, along with other conflicts, is depicted in a somber way at the Northeast Georgia History Center. Its outdoor Freedom Garden features the "Circle of Honor," a series of monuments recognizing veterans by name and including their military rank, branch of service and years in service. The monuments also feature the names of families of area veterans.
Some of the names from the Great War represent families who have long since scattered beyond Hall County.
Many had descendants who would go on to serve in other wars, such as P. Martin Ellard.
The longtime Gainesville resident keeps his father's sword and Marine photograph in a glass case on the wall of his home at Lanier Village Estates in North Hall. He also has Pope Ellard's leather leggings from his military days.
On an opposing wall is a photo of Ellard during his Army days, which began at the end of World War II.
He said his father volunteered for the service at 24 and was training at Parris Island, S.C., when the war ended.
Ellard, 87, also has a photo of him and his father riding a convertible in a July Fourth parade in the early 1990s, with a sign proclaiming his father as a World War I veteran.
He recalled that day, saying that, at one point, a group of World War II veterans approached the vehicle and introduced themselves to his father.
"About 10 of them came by and Daddy would put his hand up - he was a small fellow - and shake hands with them and say, 'Good for you.' That's all he would say," Ellard said.
After his father died at 99, several men who were members of the Marine Corps League approached Martin Ellard at the funeral and said they wanted to pay their respects.
"They came over the casket, stood at attention and saluted, then did an about-face," Ellard said.
It was too much to handle for the younger Ellard.
"I broke down," he said.
 As the men left, Ellard told them, "You'll never know what this means to me."
http://www.gainesvilletimes.com/section/6/article/102560/