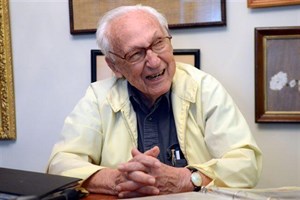 Howard Silken became an inventor at the age of 7.
Opening matchboxes was a source of endless frustration for his mother, a smoker whose hands shook from arthritis. After learning more bad words "than you can imagine" when the matches kept falling to the floor, the little boy decided there had to be a way to help his frustrated mother.
And he found one: a flip-top for the matchbox.
That was 87 years ago. Silken, now white-haired and 94, is still tinkering, still dropping by the wood shop of his Boca Raton retirement home, St. Andrews Estates, to toil away on his inventions. The latest idea came just in the last month - a shredding device that would tear paper apart so it can't ever be put back together.
"Oh, I can't stop thinking," Silken said. "Whatever I see, I say, 'That can be improved.'"
Over the years, he's racked up 11 patents and sold his inventions - which include an improved radial saw and a device that cuts circles and other shapes into wood - to companies like Stanley Black & Decker. One of them, a universal blade guard for radial saws, brought in enough money to allow Silken to retire at 57 and travel the country in an RV with his wife.
That device, which came into demand when the Occupational Safety and Health Administration began shutting down companies for not using protection like it, was Silken's most successful.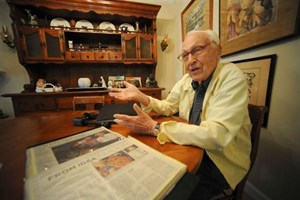 But for almost his entire life, he's always been working on one project or another. His daughter, Teri Nicklos, grew up watching her dad work with tools in the basement of their old house in New York. She joined him, helping put together pieces of his creations.
"He was always down in the shop inventing something, making something, fixing something and so the smell of sawdust brings me home, you know?" said Nicklos, who lives in Hudson Falls, N.Y. "I kiddingly tell people that I think that my parents cut my umbilical cord on the radial arm saw because it was just so much a part of our lives."
Last month, when Nicklos came down to visit, she and her dad were once again in the wood shop, this time at St. Andrew's. She'd looked everywhere for a dog carrier with wheels, but couldn't find one that was the right size for her 9-pound pooch.
"I said, 'OK Dad, I have a job for you. Can you put wheels on my dog carrier?' He said, 'I don't see why not,'" Nicklos recalled. "He started cutting, sawing and drilling. And next thing I know, my dog carrier has wheels."
"I miss having him around because he can fix anything. Anything."
Most of Silken's inventions revolve around tools, with a few exceptions: He holds a patent on a quick-release football helmet, and he came up with a device that scoops up golf balls underwater. His wife, Paula, got into inventing, too. About 25 years ago, she came up with the "perfect" bookmark, one that marks the exact line where a reader left off.
The two traveled as a team to schools around Palm Beach County in the late 1990s and early 2000s, talking to kids about inventing and the patent process. They were also members of the South Florida Inventors Society, with Silken once serving as president.
Though it's been years since he was active in the group, he's still remembered there today.
"He has a lot of great stories to tell - one in particular," current president Leo Mazur said. "He was thinking so hard about an invention that he was working on for Black & Decker while he was taking a ferry over to Manhattan that he got off the ferry and forgot to take his car.
"He thinks that intensely about inventing. He's so focused and you have to be, you know? It's not just coming up with a great little idea."
New ideas still strike Silken constantly. He got the idea for the improved shredder after growing frustrated recently while shredding documents.
"I have the plans in my brain right now and I'm collecting the parts," Silken said. "Then I'll go into the shop and I'll build it."
He figures it'll take about four or five years to perfect.
Nicklos isn't surprised her dad hasn't stopped inventing. She said she'd be worried if he ever did.
"That's what he lives for," Nicklos said. "His biggest frustration in life is that he knows he's not going to live long enough to get patents and manufacture all of the things that he's thinking up still in his head."
sun-sentinel.com/news/palm-beach/fl-palm-lifelong-inventor-20140614,0,550867.story