High school seniors recreated the "Senior Prom" for residents at Park Pointe Village, an Acts Retirement-Life Community in Rock Hill, South Carolina. They were excited to join the older generation for an opportunity to relive their youth with a night of dancing.
How It All Began
It's become a tradition for these teenagers who work on the culinary staff at Park Pointe Village. Dozens of high school students dressed in gowns and tuxedos made it their first stop on prom night. Before the dinner and music, they headed to the place where they work to visit their "grandparents."
Residents who live there seldom see the teens dressed out of their work uniforms, waiting tables in the dining room. On a magical night in April, the students parade around their dinner tables sharing with the older generation a milestone of their youth.
"The residents applaud, some cry. They all thank us. They say it makes them feel young again," said high school senior Mason Jones. "Honestly, it's the best part of our prom night."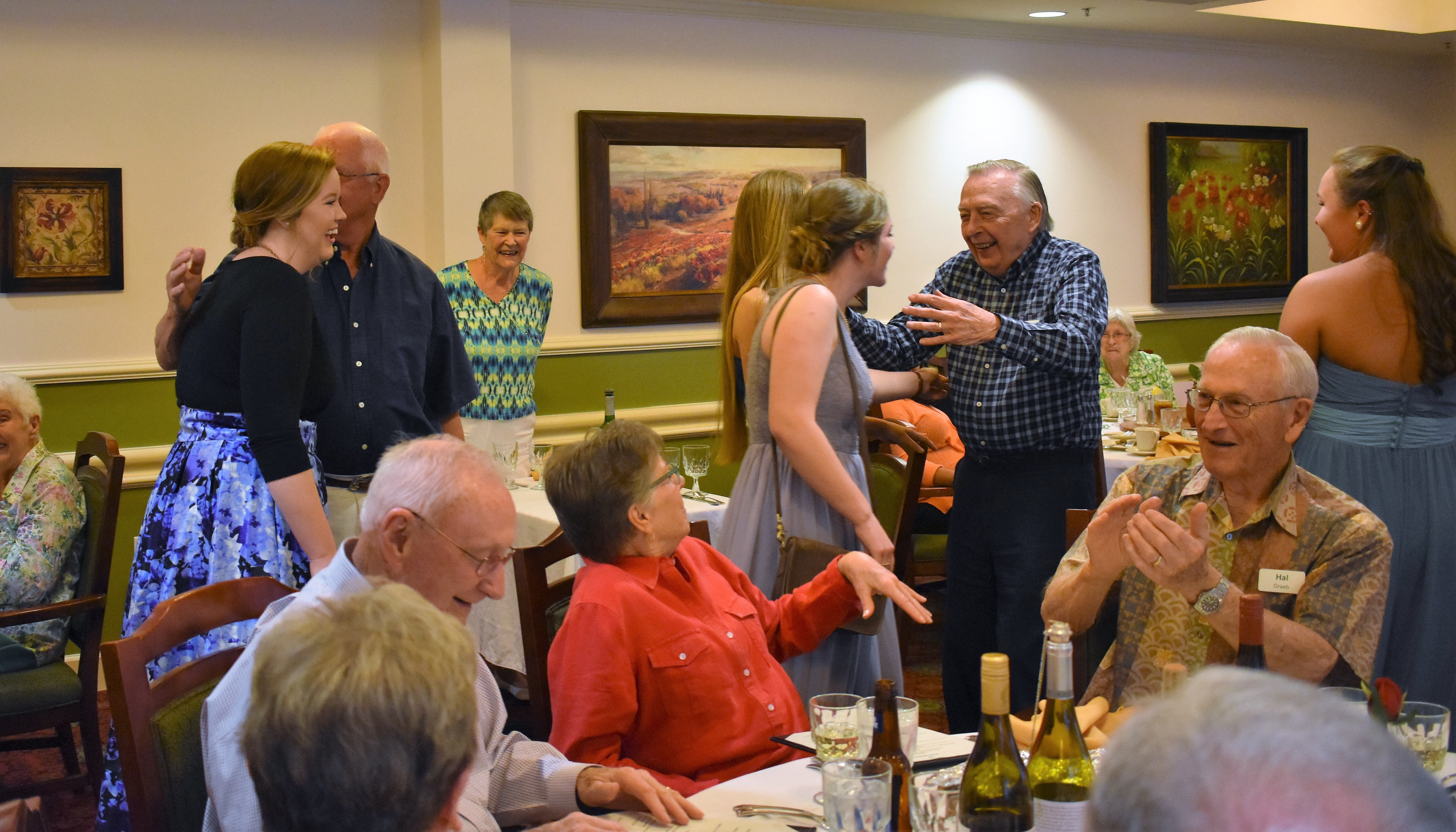 The teens excitedly chat about their night ahead, show off their dates and pose for a few photos before leaving for the prom. The residents are left behind to reminisce about their younger days.
Not this year.
A Night to Remember
This year, the teenagers brought the "senior prom" to Park Pointe Village. Mason Jones came up with the idea and recruited fellow teenagers on the Acts staff to host the special event on May 20. They celebrated one last prom with their "grandparents" before heading off to college.
Only this time, it's the older seniors' turn to dance.
The Rock Hill Herald and local TV station CN2 attended the event (Click here for the full news article).
The Special Bond
For Jones, who has developed a special bond with these residents, it's her chance to give back. "Some have children out of state and are unable to see their grandchildren as often. They take a genuine interest in our lives," she said.
The teen is grateful to the older generation who imparted words of wisdom, offered encouragement and career advice over her three years of waiting tables. Outside of work, some residents show up to support them at football games and school plays.
"The most fascinating part is watching these kids come into their own," said resident Warren Kinney who lives at Park Pointe Village. "For many of them, it's their first job. We marvel at how they grow up before our eyes. We love them like our own."
 As twelve high school seniors become college bound, some studying across the country, resident Bob Schwartz likened their parting to the feeling of being an "empty nester" all over again.
 "Most will pop in around the holidays and semester breaks to earn a bit of pocket money in our dining rooms, so it is similar to when our own kids come home to visit, full of tales to tell and a bag full of dirty laundry," Schwartz said, "Our kids face a bright and happy future."
 "As they leave, we welcome the bright and shiny faces of new servers who fill their vacated positions. We are certain to 'adopt' these new grandchildren, as they become our latest best and brightest."