By Terry Alburger, Life Engagement Coordinator
It certainly has been a long winter.
Up until the tail end, it was not too bad. But it seems March wanted to live up to its reputation of coming in like a lion. Four nor'easters hit our area in less than as many weeks, dumping several feet of snow on us, in some cases more.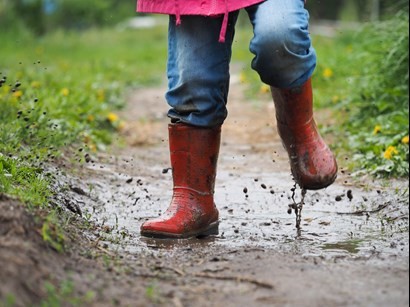 But now, we are ready. Spring officially starts this month and not a moment too soon. If you have small children, they are no doubt clambering to play outside in the milder temperatures. And no less anxious are our four-footed children. I know that in my case, my long walks with my pup had taken a hiatus. It seems I had become a fair-weather walker! But now, she is definitely ready for some long hikes across the fields.
So we're all ready to play outside. 'Tis the season. But 'tis also the season for something else — mud. Everywhere. We have several low spots in the yard that are notorious for becoming mud puddles very quickly after a good rain. Even after a not-so-good rain!
Early on, when my first granddaughter was very young, she taught me a valuable lesson: It's OK to get dirty. It's OK to play in the mud. It started very innocently with this request: "Mom-Mom, can I please put on my rain boots and splash in the puddle?" Her pleading voice and convincing smile were too much for me, and I succumbed.
So with her colorful rain boots on, she gleefully trotted down to the edge of the murky mini-lake, which previously had been a garden. In hindsight, perhaps I should have gauged the depth and viscosity of that puddle before agreeing. Because when she took her first step, her boot got stuck and her socked foot loudly plopped into the brown liquid. I once again heard that shout of glee, followed by laughter. Lots and lots of laughter.
At that moment, I had a choice. I could do the grown-up thing and remove her immediately from the mud, or I could let her enjoy being a kid. And I could join her. Muddy? You bet we were. Very. But there is a great amount of pleasure in the simple act of playing.
Since that day, I have been blessed with four more grandchildren. I have likely added a few gray hairs, taken on a few extra responsibilities and added to the already long to-do list of life. But I have not lost the ability and desire to play. And you shouldn't either. Time is a gift. I try very hard not to waste it on unimportant things or unpleasantness.
When all is said and done and our time is short, I'm pretty sure not one of us will utter the words, "I wish I had spent more time working." The important things, the best memories, will be those which brought you joy — the time you spent playing in the mud. Don't be afraid to get dirty, to laugh like a kid, to enjoy yourself. The dishes will wait. The laundry isn't going anywhere. But your kids and grandkids grow up. You can only hope that when they do, they will remember how you taught them that you're never too old to play in the mud.
Terry Alburger is the Life Engagement Coordinator at Brittany Pointe Estates, an Acts Retirement-Life Community in Lansdale, Pennsylvania. This column was published online by Montgomery Media on April 9, 2018.