By Terry Alburger, Life Engagement Coordinator
You may have noticed there has been an increasing amount of green all around us.

No, I don't mean an early spring. Punxsutawney Phil took care of that.

This is a different kind of green. You see, we in the southeastern region of Pennsylvania have an illness that is highly contagious. It's called Eagles Fever.

But what exactly does Eagles Fever do?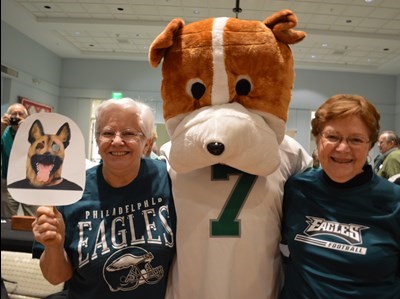 Well, symptoms include extreme jubilation, randomly alternating between singing "We Are the Champions" and the Eagles fight song and a need to utter the words "Go Eagles" to friends and complete strangers alike. This condition, long-awaited in our area, also alters our fashion sense. The predominant colors of our wardrobe have become black, green and white.

Is this a permanent condition? It certainly is! Truth be told, for many of us, we have always had it, but it lay dormant for many years. Now that it's unleashed, there is no telling how long it will last! Those afflicted hope it will recur on a yearly basis.

It is quite an interesting phenomenon, to be sure. I have written in the last about how disasters and tragic circumstances seem to unite us. We band together to help others, we forget petty differences and we are one in an effort to make a difference. But at the other end of the spectrum, we once again see this unity. Once again, we have all forgotten our petty differences, forgotten political affiliations and race or gender issues. We are one. We are Eagles Nation. And we are strong!

With each week that passed during the playoffs, it was palpable. You saw strangers smiling at each other or commuters giving a thumbs up to the driver of a car with an Eagles flag. You saw people celebrating and joining in pep rallies to support their team. People that don't normally watch football were suddenly being drawn in by the exuberance of their friends, co-workers and family members.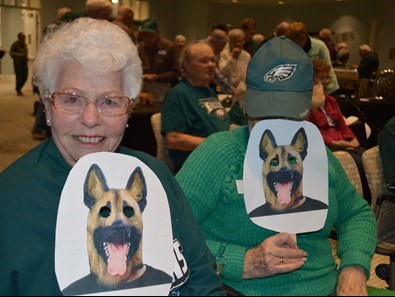 What strikes me about this particular team and this particular championship is the perseverance, the grit and the faith of this group of guys. They took each obstacle, each injury and each naysayer in stride and never let it get to them. Because they had faith. What a wonderful message to each and every one of us. Who among us doesn't have difficulties in life? We face hardships, failures and disappointments each and every day. It's the nature of the human beast. We cannot control what happens to us. However, we can control how we react. The members of the world championship Eagles have shown us that we can triumph, no matter what the odds. After all, we are all underdogs, in one way or another, right? So run with it. We've learned that being the underdog can work in our favor, can make us stronger and more determined. The never-say-die attitude is a great weapon in all aspects of our lives.

So as we celebrate this victory, let us take a play from the Eagles playbook. No, it's not the "Philly Special," but it will still get you over the goal line. Remember to fight through the tough times, to always support your "team," whether that means your family, your friends, your co-workers or whoever it may be, and to give thanks. We are underdogs. We are champions.

Terry Alburger is the Life Engagement Coordinator at Brittany Pointe Estates, an Acts Retirement-Life Community in Lansdale, Pennsylvania. This column was published online by Montgomery Media on February 14, 2018.