By Terry Alburger, Life Engagement Coordinator
In the course of my job at a retirement community, one might assume I plan events such as bingo or knitting circles. This could not be further from the truth. My residents are perhaps the "youngest" people I have the privilege to know. The best example of this fact is the theater departments. Yes, that is plural. We proudly boast two - one of which, the Song & Dance Troupe, falls under my jurisdiction.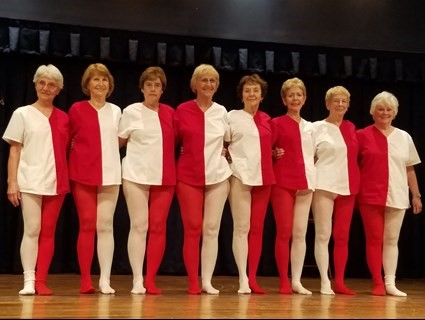 When I was first asked to help out with this show, I was still the fitness trainer, focusing not only on physical health, but also on brain health. I had created a class called "Brain Games" that tried to challenge the minds of all who attended. Puzzles, cryptograms, lateral thinking, foreign language, trivia … I included a little bit of everything. The more I researched, the more I realized that participating in theater was one of the greatest brain exercises imaginable. So, when asked to direct the shows, I jumped at the chance. By creating scripts with challenging roles, I encourage creativity, social interactions and mental stimulation.
From the minds of seniors come some amazingly creative ideas. Creativity can be defined as the ability to think outside of the box. This is perhaps what I love the most in working with this age group. They are not afraid to try new things, to stretch the limits of their comfort zones and to throw themselves wholeheartedly into our shows with a level of dedication that is unprecedented.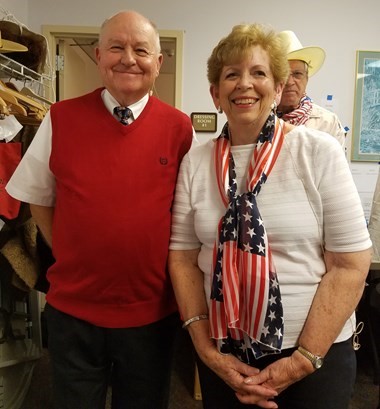 The key to a successful show is to have the right crew behind you. I am blessed to have many talented people around me. Retired engineers, scientists, professors, teachers, etc. whose areas of expertise work in my favor. They are instrumental in the most effective use of microphones, lighting and special effects, including both sound and visual. Stagehands are also a huge part of a successful show. And lastly, it is crucial to have a good stage manager. Mine is my right hand, my organizer and the glue that holds the cast together in cohesion.
With a solid team behind us, we continue with the task of creating an innovative show. We begin in January when we call our four co-directors, who I call my "think tank," into closed-door brainstorming sessions. The age range of my creative team is between 65 and 85 years old. I have found that working with people of varying ages leads to many perspectives and ideas which I would not normally consider. The blend of these ideas and perspectives is what gives us a captivating and entertaining product.
Once we choose a theme and the types of acts we would like to include, the writing sessions continue for a few months. Next come the props. We have a team of prop builders that is second to none. They are led by a resident artist who creates whatever we ask of him, no matter how far-fetched. So, you can see, it takes a village!
The benefits of theater are incredible. Most areas have community theater, so keep your eyes open to possibilities in your area. It is addicting in a wonderful way at any age. Theater keeps your mind sharp, focused and challenged. I have also observed that members of a theater family help each other, advise each other and support each other. They take it upon themselves to rehearse each day and dedicate themselves to the show. What a great way to exercise your mind and have fun at the same time.
Terry Alburger is the Life Engagement Coordinator at Brittany Pointe Estates, an Acts Retirement-Life Community in Lansdale, Pennsylvania. This column was published online by Montgomery Media on September 13, 2017.