By Jane Jewell, Chestertown Spy
The Olympics, we know, come every four years. But at Heron Point, the Olympics come every year! On Thursday morning, June 8, buses began arriving early with the senior athletes from five other communities. Heron Point was the host for the 2017 OlympiActs, sponsored this year by BB&T.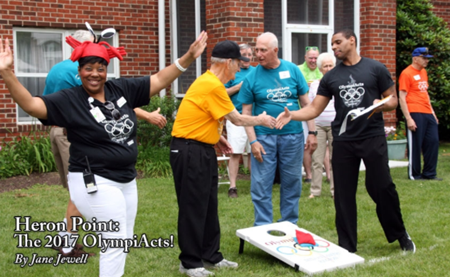 The five traveling teams were from Lima Estates, Granite Farms Estates, Cokesbury Village, Country House, and Manor House. With Heron Point, that made six teams competing for the gold! There were eight sports plus one "brain game" for a total of nine events.
Spirits were high! Many people carried clackers or pom poms. Every athlete wore an OlympiActs t-shirt in their team colors. Heron Point's shirts were blue while staff wore black t-shirts. Lima Estates even had a lion mascot to cheer for its team!
Check out the full Chestertown Spy article here. For a video recap of the amazing day, please visit our Facebook page.