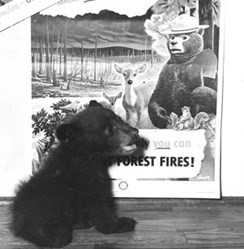 Nearly 65 years ago, a teenage Karen Signell gazed at the bear cub lolling in a tree inside his exhibit at the National Zoo and wondered why his eyes seemed so sad.
Rescued from a forest fire in New Mexico in May 1950, the orphaned little brown bear had been flown to the zoo in Washington, D.C., to become a living symbol of Smokey Bear, the blue jeans and ranger hat-wearing character that popularized the phrase, "Only YOU can prevent wildfires."
Signell, a born animal lover, knew about Smokey's life but still wanted to know more about the bear. So she decided to write his story. And just months ago, the now 79-year-old Boca Raton woman published the U.S. Forest Service-licensed novel that's been a lifetime in the making.
Smokey's story, Signell says, followed her through her college years in New England to her career as a psychologist in San Francisco and finally to South Florida, where she finished hashing it out.
Called "Smokey Bear: The Cub Who Left His Pawprints on History," Signell's book details the bear's life based on years of research, including meeting with a man whose family helped heal Smokey's burned paws and belly, visiting the mountain where he was found and reading endlessly about the campaign he brought to life.
The book is told from Smokey's perspective.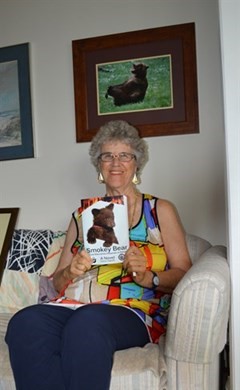 Don Bell, who helped his parents and sister care for the cub at their Santa Fe, N.M., home, initially wasn't sure about that approach. He thought it might come out "hokey."
"I've lived with this thing since 1950, so when I first heard what she was going to do, I thought, 'Well, OK, I'll go along,'" said Bell, 79, of Las Cruces, N.M. "After she got it all put together and everything and finished it up, I read it and I think she did a pretty damn good job."
He was around 15 when his dad came home with the then-5-pound bear. A cowboy turned game warden, Ray Bell, Don Bell's father, was stationed in New Mexico's Capitan Mountains when the fire that injured Smokey broke out.
The Bell family was constantly taking in wild animals, so Don Bell didn't think much of the "cute little guy" who slept in a rabbit cage on the back porch.
But the story of the rescued cub would become a national phenomenon. Smokey's arrival at the capital airport drew hundreds of reporters, photographers and onlookers, and he appeared in newspapers across the country.
"I think it really it showed that instead of Smokey just being a character that you saw in print and on television, that Smokey was representing the real world - the real forest and the real creatures there," said Lincoln Bramwell, chief historian for the U.S. Forest Service.
During his 26 years at the zoo, Smokey drew millions of visitors, including Signell, so eager to see him that she went within months of his arrival and wrote a paper on the experience for her English class.
Signell kept her notes and historical photographs of Smokey in a trunk she hauled around throughout her life and opened after retiring in 2000. In the "bear den" of her unit at retirement home St. Andrew's Estates, Signell typed at her computer each day. Over the years, ideas for the book had come to her often, and she had written them down.
All that time, Signell said, "I still was dedicated to this little bear and his message."
http://www.sun-sentinel.com/local/palm-beach/fl-smokey-bear-book-20150226-story.html