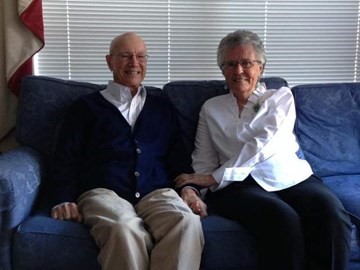 Bob and Beverly lived in the same apartment complex and had rarely spoken, but they did both like to walk around the small lake on the grounds. As luck would have it, one walked clockwise and the other counterclockwise.
"I would walk around the lake at 8 in the morning, and I saw this guy walking the other way," Beverly Brunson, who spent most of her life in New England, recalled recently. "One day he said, 'Do you want to sit down and talk?' And I thought, 'A person from New Hampshire doesn't talk to strangers!'" She laughed.
Talking became walks and dinners together and finally, about a year later, Bob and Beverly got married.
It's a nice story, perhaps not remarkable - not until you also know that Bob Brunson was in his 80s and Beverly in her 70s when they met, and that both had lost beloved spouses of many years not long before. They met and married after moving into Tryon Estates, an ACTS Retirement-Life Community in Polk County.
Beverly moved to North Carolina from Cape Cod. She had already lived at least two lives, one as a single working mother, a nurse raising four daughters ("and they're all over 6 feet tall," she noted) after her first husband "ran off and I never saw him again."
Once three of four daughters had graduated college, Beverly's new life began: At 50, she married Edward, the wonderful husband she hadn't had the first time around.
But after 21 years together, Edward fell ill, and Beverly took care of him. Eventually they decided they should move together into Tryon Estates, a facility that would offer nursing support without the couple giving up their independence, since they'd have their own three-bedroom apartment.
"Edward died nine days after we moved in," Beverly recalled, "which was not very nice, because I didn't know anybody here. I was alone." But not for long: "All the widows (at Tryon Estates) took me under their wings," she said. Somehow, she got through it. Marrying a third time was the furthest thing from her mind.
Then came Bob, who had already been at Tryon Estates a couple of years. He had worked most of his life in Florida, a mechanical engineer who retired as president and CEO of a engineer consulting company - an achievement he doesn't readily trumpet. "I did not know for two months that he was anything other than an engineer," Beverly said.
When he retired, Bob and his second wife, Beatrice, known as Tommy, built a spectacular house overlooking Brevard and lived there 10 years. When they decided to downsize to a retirement community, they spent two years at a facility in Florida waiting for a spot to open up at Tryon Estates. They lived happily at Tryon Estates for two years before Tommy passed away after 40 years of marriage. In his grief, Bob stayed busy, including his walks around the lake, where he met Beverly.
"We saw each other for a year," Bob recalled. "We started having dinner together almost every night."
"When we walked down the corridors, he held my hand in front of everyone," Beverly said, still at heart a proper New England girl, shocked by such a thing.
"We didn't go on conventional dates, going out for shows and all that," Bob said. "Life was pretty much centered around here."
Beverly traveled frequently, taking each of her daughters on a trip to somewhere fabulous: Antarctica, say, or Alaska. She loved those journeys with her children. But as a trip to Africa approached, after she and Bob had been seeing each other awhile, she said, "I realized I didn't want to go." She knew would miss being with Bob.
They had gotten a marriage license, but Beverly secretly thought she still might back out. She had a month to think about before the license expired, after all.
But once in Africa, "I called him from the Serengeti," she said. "It was about $28 a minute. I knew we already had the license, but I called him long distance to ask him if he wanted to marry me."
Bob said yes, of course. "I didn't know there was a question," he said.
Within a week of Beverly's return, they were in the Congregational Church in Tryon with a minister and four witnesses, tying the knot. They moved in together, into Beverly's immaculate apartment. Bob gave most of his furniture to his daughter, save for a beautifully finished computer desk he built himself.
They now attend Tryon Presbyterian Church together every Sunday. "That was important to both of us, that we were Christians," Beverly said. A turning point in the courtship was when Beverly, who was still visiting different Polk County churches to decide where she felt most at home, ran into Bob at Tryon Presbyterian.
"We both have very similar values," Beverly said.
"As long as I do what she says," Bob quickly added, with a smile.
They have eight children between them, Beverly's four daughters and Bob's daughter from his brief first marriage and his two stepsons and one stepdaughter from his marriage to Tommy. There is an age difference: Bob is 92, Beverly, 80. But only rarely does that gap become evident.
"I asked what his father did," Beverly said, "and he said that his dad served in the military. And I said, 'Oh, my dad served in World War II.'" Bob looked at her. "I was talking about World War I," he said.
They're comfortable and active at Tryon Estates. Beverly volunteered for many years with the 11th Hour counseling service of Hospice of the Carolina Foothills, seeing close to 50 folks through their final days. After each passed away, "I would come home and cry to Bob, and he would put his arms around me and hold me and was very supportive," Beverly said. Once her volunteer work started affecting her dreams, though, she decided to take a break.
Bob is a voracious reader, despite an eyesight problem that gives him double vision. He solves that by reading on his computer, "where I can make the print really big," he said. He enjoys "everything from the old-time classics from the Greeks to newer stuff from P.G. Wodehouse" and nonfiction like Dave Ramsey's financial advice. He also works out for an hour at least three days a week in Tryon Estates' exercise room - and there are those walks around the lake.
"We do a fair amount of walking," Bob said.
"We do 2, 2 1/2 miles every day," Beverly said, "because tomorrow we might not be able to."
Living at Tryon Estates "is my security blanket," Beverly said.
With the facility's considerable support structure - including assisted living, long-term nursing care and an Alzheimer's unit - "That's our gift to our children," Beverly said. "That they don't have to worry about us."
Bob's advice to anyone considering a move into a retirement community is simple: "Don't wait. When you start thinking about it, it's probably time to go ahead and do it."
Bob pointed out that there's "plenty to do" within the community, and Beverly mentions that they "eat with different people almost every night." (They have breakfast and lunch in their apartment and eat dinner in the Tryon Estates dining room, which has tablecloths, attentive wait staff and an extensive and ever-changing menu.)
Mostly, though, they have each other - an unexpected blessing. "There's not a day that goes by that he doesn't make me laugh," Beverly said.
http://www.citizen-times.com/article/20140226/LIVING/302260004?odyssey=mod%7Cmostcom