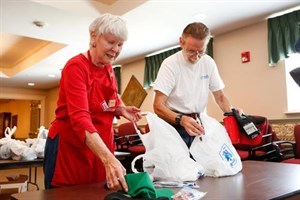 Of the 250 or so senior residents of Park Pointe Village in Rock Hill, 78 are veterans.
"We really care about other veterans," said resident Boyd Gilbert.
So in less than an hour on Tuesday, Park Pointe residents packaged dozens of bags of donated goods to give to homeless and less fortunate veterans around the area.
Standing at rows of tables lined with donated soap, hats, sunscreen, flashlights, food and other items, the volunteers bagged them up and loaded them to be delivered to those who are in need, said resident Dianne Wilusz, who lead the effort. The York County Veterans Affairs Office will distribute the bags to those who need them.
The items were donated by local chapters of the Daughters of the American Revolution and United Daughters of the Confederacy.
"There will be a next time," Wilusz said of the Veteran Pack Project. But no matter how much Wilusz or her fellow residents work, there will still be plenty of veterans who need their help. "There's an unstoppable need," she said. "We can't fix it, but we've got to try.
"When Americans join the military, they "write a blank check to Uncle Sam," Wilusz said.
And veterans today, particularly those of recent wars in Iraq and Afghanistan, need more help than any agency is able to give, said Gilbert, a 28-year Air Force veteran. That's why the community has to step up to fill the void. The Veteran Pack Project and other veteran service events like it aren't something these residents do just around patriotic holidays. Caring about veterans is something they do every day.
Wilusz has been volunteering on veteran service projects since 1990, and she doesn't plan to stop anytime soon.
"We do everything we can and touch (this problem) as much as we can," she said.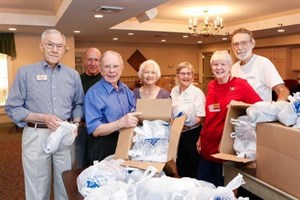 http://www.heraldonline.com/2014/07/01/6108675/rock-hill-seniors-show-patriotism.html#storylink=cpy