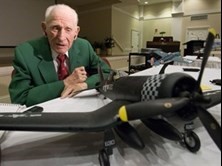 Retired Marine Corps Col. Justin "Mac" Miller has a sense of humor about reaching a notable milestone in his life.
"Somebody said the thing to do to live to be 100 is to live a clean life," he said. "I tried that for a while and didn't like it."
A celebration in honor of Miller's 100th birthday at the Azalea Trace retirement community Tuesday featured a special program looking back over his life and military career.
"Anyone who's done anything for 100 years deserves to have a celebration," said retired Lt. Gen. Duane Thiessen during his presentation of gratitude touching on the many accomplishments in Miller's life.
From the birth of aviation to space travel, Miller literally has a century's worth of stories to tell including his military career in the Marine Corps, his being a pursuit pilot during WWII and the various companies he has spearheaded since his military retirement at 60.
Miller, born in 1914, knew he wanted to be a pursuit pilot when he was 10. He still remembers the comic books and magazine covers depicting the Lafayette Escadrille and Edward Rickenbacker that he collected and posted on the walls of his bedroom.
"I never wanted to do anything else," Miller said, and described an incident of what happened when he did attempt to take a another path.
"At one point, I thought it'd be nice to be a waiter and pick up some money for school. I failed totally," he said."I couldn't get my hand back any further than this," he said while trying to hold his hand over his shoulder as if to carry a tray of food.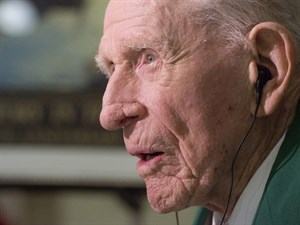 In 1932, Miller was on the waiting list to enroll in the Naval Academy but eagerness got the best of him when he didn't find himself in the air quick enough.
So after being selected to attend the Academy, he eventually resigned and enlisted in the Marine Corps as an aviation cadet in 1940, beginning in Roosevelt's Civilian Pilot Training Program.
By 1941, he had received his Wings 3. And that's when Miller's real aviation journey began.
Col. Mac Miller contributed to the field of aviation being taught how to fly the F4U Corsair - his favorite aircraft - by Charles Lindbergh. Miller flew a total of 140 combat missions. And the list of awards are endless, but to name a few, he has three Distinguished Flying Crosses, 11 Air Medals, and four Battle Stars.
From the time he stepped foot in an aircraft to the time he was told he could no longer fly without a copilot because of his age, flying has always been his first love.
So, after collecting a century's worth of stories, the question people want Miller to answer is, 'how does it feel to be 100?'
"I used to think that anybody that was 55 years old had one foot in the grave," Miller said. "Being 100, they say, 'well how do you feel?' I say, well I don't know how a 100-year-old is supposed to feel!"
Lightheartedly, he said since all his friends have passed on, he doesn't have any peer pressure from anybody. Other than not being able to see or hear very well, Miller said he doesn't feel any different than he did when he was 75.
"It's been a good ride," he said.
http://www.pnj.com/story/news/military/2014/09/23/col-mac-miller-birthday/16128107/
http://www.usatoday.com/story/news/nation/2014/09/24/retired-marine-colonel-turns-100/16154245/?utm_source=feedblitz&utm_medium=FeedBlitzRss&utm_campaign=usatoday-newstopstories