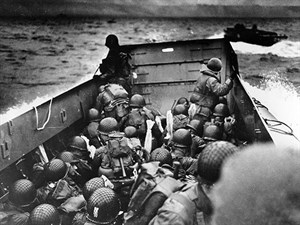 Life in Gainesville kept going in routine, ordinary ways. Main Street was about to get a coat of asphalt. Scout Camp was scheduled to start in a few weeks.
But there was also fear and uncertainty mixed with patriotic fervor around June 6, 1944, one of the biggest days in American history, let alone World War II.
The Gainesville News' front page on June 8 - the earliest the newspaper published after D-Day - still had stories important only to people at that time, but the Allied invasion of western Europe took center stage.
"Tuesday was a solemn day in Gainesville," states one article. "No one felt like doing business as usual.
"Their hearts, their minds and their prayers were with the soldiers invading Europe."
And the bottom half of the paper contains a large ad from Gainesville National Bank depicting a woman staring skyward and framed by these words: "Invasion! Grim reality."
The ad goes on to push for people to buy war bonds, which helped fund America's military efforts, but also states a strong sentiment: "We feel a sense of helplessness, so far away from where that great drama thunders across its terrible stage."
Allied troops had landed along a 50-mile stretch of heavily fortified Normandy coastline on June 6, 1944. More than 9,000 soldiers were killed or wounded, but the Allies gained a foothold and would go on to press inward on the continent and defeat Germany the following year.
The days leading up to the invasion were tense, especially for the military but also for loved ones back home.
"Everybody knew Europe was going to be invaded - that was the whole point of the war," said Glen Kyle, managing director of the Northeast Georgia History Center in Gainesville.
"Everyone on the home front who had a loved one in England (the invasion's base) knew the odds were they were going to be a part of it," he said. "And knowing that it was coming, they were all just waiting for that day when the announcement would come that the invasion had started.
"And they knew their sons, husbands, fathers, brothers would be in harm's way."
Just how many of those came from Hall County is hard to determine, but there were several who have shared their stories over the years.
One of those was 1st Lt. James "Jim" DeLong of the U.S. Army Air Force.
Flying on his B-26 Marauder, a twin-engine medium bomber, he headed for the beaches of northern France early that morning.
"We were just ahead of the landings," said the Gainesville native in a 2009 interview. "The ships were all in place. We could see them as we went over at various altitudes."
He also could recall flying conditions.
"We just had daylight and could see the ground. ... We had to go through so much bad weather to reach our target," said DeLong.
"But it was clearing down there. From the base, we took off in almost zero visibility and climbed to 9,000 feet. ... By the time we got there, to where we could see each other, there were planes everywhere and trying to get back into formations."
History records that weather played a major factor in the landings.
Conditions were unsuitable for a June 4 landing, as wind and high seas would have made launching landing craft treacherous at best. The Germans also believed no invasion would be possible; many senior officers were away.
The amphibious landings were bloody, with many Allied troops dying before ever stepping on sand - scenes that have been portrayed in movies, perhaps most graphically in 1998's "Saving Private Ryan."
The bombing mission was tense, "particularly when we knew that there was something up," DeLong said. "But we didn't know it was going to come off that day. It was a surprise by at least a number of days."
Today, at 93, his health has faded some, but memories remain.
"There was a lot of luck in hitting targets," he said in an interview at his home Wednesday. "You never know what (weather) you're going to get."
His son, Jim DeLong Jr., said he didn't realize the significance of D-Day in his family until he was an adult.
"From Mother's standpoint, he realized it was a big thing all his life," he said, with a chuckle. "And it is a big part of his life, to the point that he's got to talk about it. ... You never hear about the automobile dealership that he ran for 30 years."
Another local war hero is Cecil Boswell, who walks every year in Gainesville's annual Memorial Day parade wearing the same Army uniform he wore when he was discharged.
He was part of the second wave invading Normandy on D-Day. Boswell has given several interviews through the years and is especially patriotic, flying a U.S. flag from his front porch and displaying a glass case containing his Army medals on his living room wall.
"Some things happened (during the war) that I can't talk about or I'll start crying," Boswell has said.
Hilda Bell, who lived elsewhere during World War II but now lives in Lanier Village Estates in North Hall, was stateside when the invasion happened, but she played a key role afterward.
As a member of the U.S. Cadet Nurse Corps, she took care of injured troops as they arrived a couple of months later at Portsmouth Naval Hospital in Virginia.
"They must have had 3,000 on that (first) ship, and it was heart-breaking," she said in a phone interview Thursday. "Most of them either wanted milk, orange juice or a telephone."
In an earlier interview, Bell said "a bunch of extra telephones" were installed so troops could call wives, girlfriends and parents.
Meanwhile, Americans back home were more than just waiting for news about loved ones.
According to one report in the Gainesville News, "pastors opened churches for prayer and meditation" on June 6.
Residents who were interviewed seemed to realize D-Day's significance, but they also said they were expecting it and hoped "this was the beginning of the end."
Germany surrendered unconditionally on May 7, 1945, but the U.S. would continue to wage war with Japan. On Aug. 14, 1945, it was announced that Japan had surrendered unconditionally to the Allies.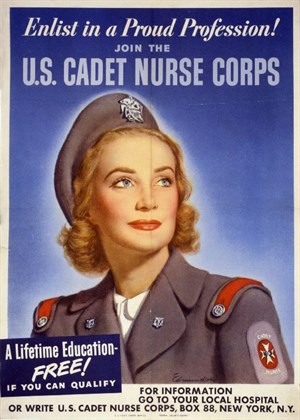 Back home, the call to support U.S. forces hadn't wavered even though the theater had changed.
"It's a tough road to Tokyo," states a Gainesville News ad in June 1945.