Residents of Cokesbury Village had the opportunity to meet legendary 78-year-old Stan "The Man" Cottrell, known as the real-life Forrest Gump! Stan is on the last leg of his 3,000 mile trek across the U.S., from Los Angeles to Washington, D.C.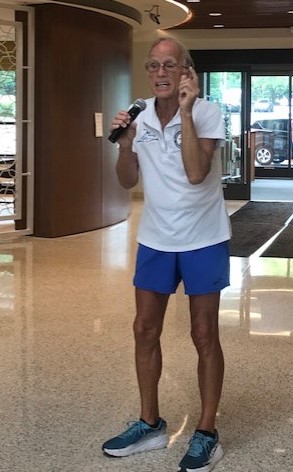 For 100 consecutive days, Stan Cottrell has spent six hours on the road in order to knock out 30 miles of running each day, essentially 100 back-to-back marathons. He stopped by Cokesbury Village, an Acts-Retirement Life Community in Hockessin, DE, on August 10 to share his inspirational message that you're never too old to dream big.
"I believe we don't grow old because we have lived a number of years. We grow old when we stop looking ahead," Stan Cottrell told Acts residents. "When we lose hope in our hearts and the excitement of life, it wrinkles the soul and then we're truly, truly old."
This is the third time Stan has run cross the United States. His first time, 41 years ago, set a world record. He has always been a runner with no plans to stop and credits his active lifestyle to extending his life.
"I started running when I was five years old. By the time I was 55, one day, my arm was feeling messed up. Next thing I know, I was in the hospital undergoing heart surgery. Doctor said, had I not been running I would have been dead by the time I was 40 years old," Stan said.
"There was a time when I ran to see my name in the record books. I had all these pictures and awards, but I still felt unfulfilled. The attention will last maybe 3-4 days, then I'm old news... but today, it's fulfilling to be able to share our experiences, touch souls, and I believe each one of us is a divine original. We all have gifts that no one else can give."
Read more about Stan Cottrell and follow his coast-to-coast journey by visiting his website, the Amazing Friendship Run 2021.