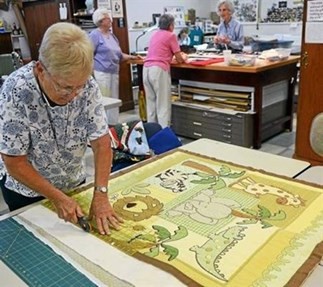 It all started 16 years ago when Barbara Kerr moved to Brittany Pointe Estates and wondered if others would be interested in quilting.
She put out a letter inviting other residents for coffee. Sixteen residents replied, and from there, residents started meeting weekly at the Upper Gwynedd retirement community.
Today, 27 women residents participate in the Brittany Pointe Estates Quilters group.
"I love quilting because you are always learning new techniques," said Kerr, who has been quilting with the group since it was founded in 1998. "It's a bond of friendship that you form with other quilters."
Kerr had extensive quilting experience. When she lived at Moravian Manor in Lancaster, she was a program coordinator.
Current Quilters Co-Chairwoman Nora O'Malley, who started quilting with the group in 2012, worked as a librarian, and she began quilting post retirement. She had a strong sewing background from making Halloween costumes for her six children.
O'Malley explained how the members make children's quilts, baby quilts, quilts for display and veterans' quilts.
"We have a collection that we will be selling at the Quilt and Craft Show in September," O'Malley said.
Residents can quilt for their families. Kerr is working on a quilt for her great-granddaughter.
Both O'Malley and Kerr explained how the quilting process works.
First, residents buy the fabric, buy the pattern and set the pattern.
Next, both O'Malley and Kerr stressed the importance of choosing the colors.
Quilters will cut up the fabric, sew the shapes and finish the top, or front, of the quilt.
Once that is complete, quilters must buy the cotton batting and pick out something for the back of the quilt. The fabric usually coordinates with the top of the quilt.
Whether it's machine or hand quilted, the quilt will need to be layered together and basted.
Finally, with the assistance of the long arm - which helps put the quilt together, as well as the quilt designs into it - the quilt is finished and ready for use.
"Quilts are conversation pieces," Kerr said.
The group members also make table runners, quilted pocket books, baby blankets, bibs and much more.
The Quilters are extremely flexible. Members can come every week or just for an hour.
Both O'Malley and Kerr said they believe that the quilting group is a wonderful experience and both the residents and staff are supportive.
The Quilters group also makes a point of using its members' skills to give back to their community.
Since 1999, the Quilters have raffled off a quilt as an annual fundraiser.
"The fundraiser is raised by the Residents Association at Brittany Pointe," O'Malley said. "ACTS is the community that operates these [retirement life communities], but within this community, we have an association that is just for the residents."
O'Malley explained that some of the money will support local charities as well as activities at Brittany Pointe.
A queen size quilt will be raffled off at Brittany Pointe's Bazaar, which will take place 9 a.m. to 4 p.m. Nov. 7 and 9 a.m. to 2 p.m. Nov. 8. Community members can purchase raffle tickets at the Bazaar or before that at the Quilt and Craft Fair, scheduled for noon to 4 p.m Sept. 26 and 9 a.m. to 2 p.m. Sept. 27.
Brittany Pointe Estates is located at 1001 Valley Forge Road, Upper Gwynedd.
For more information, call 215-855-4109 or visit www.actsretirement.org.
http://www.thereporteronline.com/lifestyle/20140819/quilting-fun-and-fundraisers-at-brittany-pointe-estates-in-upper-gwynedd