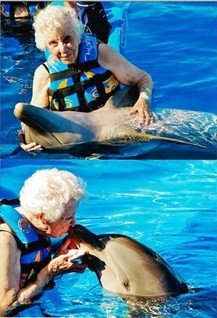 As the current year ends and the New Year begins, Betty Sperow can look back on what she'll no doubt remember as the highlight of 2014.  That's when she received a very special gift for her very special birthday on Dec.  30. Her five grandchildren and her daughter gave her something she'd always dreamed of -- the chance to swim with dolphins.
Never mind that she was 99 years old when she jumped at the opportunity last October. And never mind that it meant traveling all the way to Mexico's Yucatan Peninsula to experience the thrill of a lifetime.
Sperow, who turned 100 years young, has had many thrilling experiences and remarkable adventures in her century of living.
A 14-year resident of Lima Estates, an ACTS retirement community in Middletown Township, Sperow's earliest adventure was moving 12 times during the first 13 years of her life because of her father's job. Each move was a different experience as she adjusted to each new environment. Then after graduating in 1932 from Lower Merion High School, she attended seven different institutions of higher learning -- again, a new adventure each time. Her college education was interrupted by various circumstances, but eventually she earned a degree in art from Temple University. This led to her teaching art at Springfield High School for a number of years. Attesting to her artistic talent are several paintings that enhance her apartment.
An avid world traveler who never let distance deter her, Sperow said the travel bug didn't bite her until a bit later in life, after a decade of caring for her father in his declining years. Two months after he died, one of her twin brothers suggested trading his California house for hers for several months. So after being at home for ten years, she and her two daughters, along with two of her daughters' friends, headed for the West Coast. They were there from November until June. That was the beginning of Sperow's travel adventures.
"We saw the sights along the southern route to California and the sights along the northern route home," she said. "That's when I realized there's a big world to explore and we could get there."
Since then, Sperow has been to every continent on the globe. She's seen the ancient Mayan ruins in the walled city of Tulum, Mexico; viewed Haley's Comet during a visit to Australia; took a sightseeing side trip to New Zealand; walked the Great Wall of China; and marveled at countless other wonders of the world. In Iceland, what surprised and amazed her was the contrast between its bubbling hot springs and its majestic icebergs.
"It was so different from anything I'd ever seen before," she said.
And swimming with dolphins was an experience like none other, she said.
After an orientation session, Sperow donned the requisite life vest and ventured into the water with other people taking part in that particular dolphin swim program. Her up-close and personal 90-minute encounter with two large female dolphins was an unforgettable experience.
"I didn't have to coax them at all. They just swam right up to me," said Sperow, noting they were just as curious about her as she was of them. Their friendly, playful demeanor enabled her touch them, pet them and interact with them. She even gave one of them a kiss.
She was impressed with how well the beautiful aquatic creatures are trained. She was amused to see them "show off" by leaping into the air, dancing in the water and playing with their new human friends.
"Terrific, wonderful; it couldn't have been better! I'd do it again in a minute!" was how Sperow summed up the unique encounter.
While in Mexico, she and her daughter and grandchildren stayed in a luxury resort, where she got the VIP treatment befitting her years. That greatly added to the enjoyment of the watery adventure, which was recorded on her iPad to relive anytime.
Another of Sperow's many adventures occurred on her 95th birthday, when she and her son soared like eagles in an AirCam over the waters of Florida to do some whale watching. However, the flight was not a "first" for this extraordinary lady. After raising her family, she learned to fly.
"I always wanted to fly, ever since I was a girl," she said. "But many of my friends were horrified that I had a pilot's license. There weren't many female pilots in the 1940s and 50s."
In recognition of her 100th birthday, Sperow was congratulated by the county, the state and President Obama. She also was feted by her entire family, including her son who came from China for the milestone occasion. In addition to her three children and grandchildren, her family numbers five stepchildren and 13 great-grandchildren. Twice widowed, at age 75 she married her third husband, who became her traveling companion until his death in 2009.
Sperow sometimes travels with a group or with family members and sometimes just by herself. Her passport is always at the ready for the next big adventure. And what might that be?  Well, she thinks it would be great to see more of Africa and go on a safari in Kenya for her 101st birthday!
Asked what adventure was her favorite, the modest and amazing centenarian replied with a smile, "The most recent one is always the best."
To view the story on the Town Talk's website, click here.