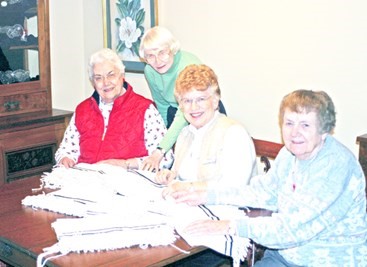 Costuming a show like "Fiddler on the Roof," Tryon Little Theater's latest endeavor can be quite demanding - especially with such a large cast.
How long would it take to rustle up some Russian uniforms, peasant dresses, boots, belts, hats and caps, and more than a dozen prayer shawls.
A community production has community support, and four ladies from Tryon Estates jumped at the chance to help.
"Betty Brewer, producer of the show, called me and asked if I might be able to get a group of ladies to help make prayer shawls for "Fiddler on the Roof," explained Fran Creasy, "and three ladies responded."
Prayer shawls have, great religious significance. The Hebrew word tallit (little covering) refers to a rectangular shawl that's worn during morning prayers on weekdays, Shabbat (the Sabbath) and also during other Jewish holidays. Every tallit has blue or black trim and a knotted fringe called tzitzit on each of its four corners.
The basis for wearing the tallit is the biblical command in Numbers 15:37-41, in which God says to Moses:
"Speak to the children of Israel and bid them to affix fringes to the corners of their garments… that you may look upon them and remember all the commandments of the Lord."
The prayer shawl is only worn during morning services because it's commanded that it be seen which has been interpreted as meaning to be seen by the light of the day. It is meant to inspire reverence for God when at prayer, and the fringes remind the wearer of all the commandments in the Torah.
The Tryon Estates residents, Kay Thomas (who moved from Etowah), Ursula Elliott (from Boca Raton, Fla.), Shirley Elliot and Fran Creasy (both former residents of Tryon), always like to be involved in different things, and they all know how to use a needle and thread.
While two sewed on the fringes, the other two concentrated on the trim. Thomas and Elliot are quilters and Creasy has made banners for the Tryon Presbyterian Church.
"Tryon Estates encourages its residents to participate in volunteer activities," said Creasy, "and the variety and quality of talent in this small community is truly a joy."
http://www.tryondailybulletin.com/2014/01/17/prayer-shawls-for-tlts-fiddler-on-the-roof/