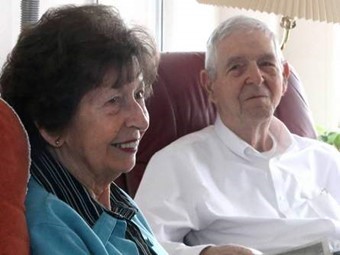 Ernest and Mary Floyd met on a blind date, and today - Valentine's Day - they will be celebrating their 72nd wedding anniversary.
Mary Floyd, 91, said a friend told her she had to meet a handsome man that her boyfriend worked with; Mary Floyd said she wasn't interested.
"She said, 'Oh, you just have to,' and every day the same thing, so finally I told her, I said well, 'I'll go if you all go with us,' " Mary Floyd said.
The couples went on a double date to an amusement park in Baltimore and they had fun, but she and Ernest never said a word to each other during their date.
"Then the next day, lo and behold, he called me and wanted to know if I would go out just with him," Mary Floyd said.
"I thought it was the other way around," 97-year-old Ernest Floyd responded. Mary Floyd said they must remember it differently.
"Things got better as we went along and found out a lot more about each other; then, three months later he asked me to marry him," Mary Floyd said. "I said, 'What? You're not going to marry me yet; I'm not interested in getting married.' "
Six months into their relationship, Ernest Floyd gave her a ring, which she wore on a chain around her neck under her shirt to hide from her mother.
"She would have had a fit," Mary Floyd said. "After six months I thought, 'Well, I'd better tell her.' "
Her mother agreed, but told her she need to wait until after her 19th birthday to get married.
"We waited until after my birthday, which is the 10th of February, and we got married on the 14th, which was the first weekend either one of us would have off (from work)," Mary Floyd said. "I was very obedient; I waited until after my birthday."
The two were married in the rectory of a local Catholic Church since she was Catholic and he was not.
"Here we are 72 years later," Mary Floyd said.
"I wouldn't have thought so," Ernest Floyd said in jest.
"We haven't had any arguments really," Mary Floyd said.
"A few," Ernest Floyd responded. "We were pulling a 35-foot trailer through Baltimore going back to her home for a visit and she says, 'Turn here.' I was halfway through the intersection before she said, 'turn here,' and I complained about that, but I think that was about as close as we ever came to getting a divorce."
"He didn't finish the story there," Mary Floyd said. "After that, I told him to turn one time and he didn't turn - OK, so I let him go and he had to go 10 miles before he could turn around."
"That was one time she was right," Ernest Floyd said.
The two said the key to sticking together has been sharing their interests with each other instead of trying to find hobbies that separate them. When their children were young, they decided to join a geology club because it was something they could share with each other as well as with their kids.
Then they started square dancing in 1978 and danced together for 25 years. Mary Floyd would sew dress shirts for her husband and matching dance dresses for herself. 
"We danced all over the United States when we were traveling," Mary Floyd said. "We'd stop for a night or two; we'd look up a place that had square dancing. Of course, we had a book that would tell you where they had dances, and we could dance just anywhere we wanted to which was a lot of fun."
When Ernest Floyd retired from working in engineering in 1982, they traveled the United States for eight years, stopping at national parks and square dance halls.
"Our goal was to visit all of the national parks," Mary Floyd said. And they made it to all of them, except for a park in Alaska.
"There's two or three in Alaska that didn't really exist except on paper," Ernest Floyd said. "You couldn't get to them. There was nothing there other than the wilderness."
"You could fly over it maybe," Mary Floyd said.
Two years into their trip across the country, Mary Floyd had her first stroke.
"We were out in Deming, New Mexico, driving along the road, and all of a sudden I had my stroke and he didn't know where any hospitals was or anything, so he got on the CB and asked who could help and they told him where to go," Mary Floyd said.
Luckily, Mary Floyd said, they were not far from a hospital, so they were able to turn around and have her seen quickly.
The quick turn around from the onset of her stroke until she was seen helped in her recovery. Mary Floyd said the doctors argued on whether or not to give her a shot which had to be delivered within two hours of the onset to help relieve the clots.
"This doctor, well, I'll be thankful for that, he said, 'Well, I'm going to do it,' and so he did," Mary Floyd said. "It helped me then, but I was completely paralyzed; I couldn't talk - couldn't do anything."
Ernest Floyd drove Mary to their daughter's house, where they stayed for four months during her recovery.
"He made me walk every day - every evening," Mary Floyd said. "I complained. I said, 'I can't walk that far,' and he'd say, 'Yes you can, just a little further.' "
Mary Floyd said there were some days during her recovery in which she would just look out the window from her daughter's couch and not have a single thought cross her mind.
"Somebody would come up to talk to me and they'd look at me, but I wouldn't know what they were saying," Mary Floyd said. "That cleared up then. As I say, my brain had to have that quiet time to calm itself and clear itself, which it did."
Mary Floyd said she was scared that she would never be able to square dance again, fearing she had lost of memory of the calls.
The two went down to Texas for their first dance after her stroke.
"I went to my first square dance scared to death, but don't you know it all came back just like that," Mary Floyd said.
Mary Floyd said she still worries about strokes, since she has had a couple since then, but considers it all part of life.
The two continued on their travels with their fifth wheel trailer across the county and into Canada for another six years.
From state fairs to national conventions, the two said they enjoyed dancing all over the county. The couple moved to Tryon Estates in Polk County in 1999, and they stopped dancing in 2002.
http://www.blueridgenow.com/article/20140214/ARTICLES/140219932/0/FRONTPAGE?p=2&tc=pg